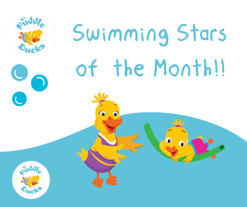 Every month, we ask our teachers to nominate their Swimming Stars of the Month and for the month of July, we want to give a HUGE shout out to the following Swim Academy superstars from our Portland Centre pool:
Arlo, who is in Level 1 was nominated by his teacher Rachael:
"Arlo is now getting more confident in his lessons each week and is now happy to put his face in the water. This is great that he now feels confident enough to do this and I look forward to seeing how much he will progress after our summer break."
Ivy-Rose, who is in Level 1 was also nominated by her teacher Rachael: 
"It's been lovely to see Ivy-Rose becoming more confident and happy in her lessons each week. It's been along time coming but I was so pleased to see that she is now happy to put her face in the water during her lessons. Well done Ivy-Rose!"
Well done to you both, you have been amazing and we can't wait to see how you progress in your Swim Academy journey!! x