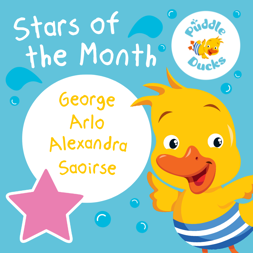 For October, we would like to say congratulations to the following superstars:
George, a Dipper at The Key Health Club was nominated by his teacher, Pam:
"George has brought a tremendous amount of energy and enthusiasm to the water each week and has recently moved up to Dippers. It is brilliant to see how he is embracing and enjoying every new activity that comes his way. Well done George!"
Arlo and Alexandra, are both Dippers at The Key Health Club and they were nominated by their teacher, Laura:
"My October stars are Alexandra and Arlo as they are both so determined and always being super listeners in our lessons and trying their very best each week. They have both now moved up into our Dipper class which they are both very excited about and I can't wait to see how they get on!" 
Saoirse, who is in Level 3 Swim Academy at our Leicester Hilton venue was nominated by her teacher Lizzi.
"Since I have known Saoirse, she has been a nervous swimmer and wanting to watch others before doing an activity but in our recent PJ week, she absolutely smashed it. She just did every activity at the same time as everyone else and really seemed to enjoy herself. It was lovely to see - Well done Saoirse!"
Well done everyone, you are all swimming superstars!