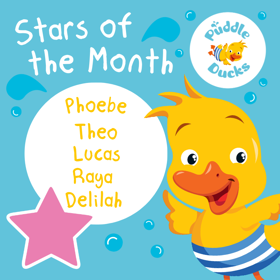 We would like to say a huge congratulations to the following superstars from The Key Health Club:
Phoebe, who is in Level 4 Swim Academy was nominated by her teacher Lizzi:
"When I started teaching Phoebe, she was not happy to get into the pool and would have wobbles each week. Once she got into the pool, she worked hard on every activity. In September, she moved up to Level 3 and absolutely smashed her 25m and is now in Level 4. She is a pleasure to watch swim and her technique is beautiful. Well done Phoebe, keep up the good work!"
Theo, a Dipper was nominated by his teacher Laura:
"Theo has such a love for swimming and he never stops smiling from the moment he walks into his lesson each week. He has become so confident in the water and shows off the new skills he learns with so much enthusiasm. He has recently moved into our Dipper class and he is such a joy to teach and I look forward to seeing him every week. Well done Theo, you certainly are a swimming star!"
Lucas, a Little Dipper was nominated by his teacher Laura:
"Lucas is certainly a little fish in the water and he is always happy to demonstrate the activities to the other children in the class. His swimming skills have come on so much this term and he is almost ready to move up to our Dipper class. He loves everything about his swimming lessons and he even smiles when he is underneath the water. Well done Lucas, I am very proud of you - you are a star!"
Raya, a Little Dipper was nominated by her teacher Pam:
"Raya always listens and tries so hard in her swimming lessons each week. Her confidence and water skills have really grown as a result. Well done Raya, I'm really proud of you!"
Delilah, a Little Dipper was nominated by her teacher Nikola:
"Delilah is my super swimming star! Delilah has amazed me with her confident jumping in…doing fantastic big jump and swims to Daddy. She is also loving her new goggles and exploring under the water now…a real little mermaid. Thanks for always bringing your big smiles and giggles to your lessons Delilah!"
Well done everyone, you are all superstars!!