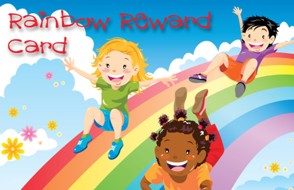 This page tells you all about our Rainbow Reward Loyalty Card available to all our customers and offering discount at local businesses.
How do I receive my card?
It's easy, just ask your teacher, poolside assistant or fill in the form below.  They will sign and date the card and hand it over.  There is no need to fill out forms or sign up to the loyalty scheme and the card is valid for a year.
What do I get?
We have teamed up with some lovely local businesses who are offering our customers discount off their goods or services. Click on the links to the right to find out more...
How do I receive my discount?
All you need to do is present your card to the participating business and they will give you the discount.  The card can only be used once at each business but they will cross their logo off your card and pass it back for you to use at the other businesses.
What is the catch?
There is no catch...we just want to say thank you for choosing Puddle Ducks Oxfordshire.
That's The Puddle Ducks Difference!