All you need to know – St Christopher's School Wrexham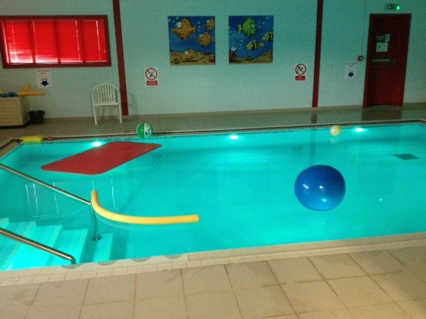 Hydrotherapy Pool, St Christopher's, Stockwell Grove, Wrexham, LL13 7BW
We can't wait to welcome you to Puddle Ducks at St. Christopher's School  – in the meantime, here's some information that we hope you find useful. Have a splashtastic time!
Directions:
St Christopher's School is located just off the A525 Kingsmills road in Wrexham
From the A525 turn onto Bryn Y Cabanau Road
Take the third exit right onto Saxon Street
Take the first road left onto Stuart Street and then right again onto Norman Road
Take the first left onto Stockwell Grove
Parking: 
Parking is available outside the pool.  Please use the Second Car Park (not the Main Car Park) as this is where the pool is located.  If it is full, there is parking on the road and it is only a short walk to the Pool
Car seats may be required to transfer your child from the car park to the pool (approx. 200 m).These should be left in the entrance hall on the bench and not in the changing rooms. Please do not bring Push Chairs. Thank you for your co-operation in advance.
Locating the pool once parked:
Once you have entered the car park please look for the pool building which is the first pool on the left hand side as you face the school
The pool entrance is to the right of the pool.  Go in between the two buildings and you will find the entrance to the pool on the left hand side
Please ring the bell for access to the pool if you can't get in
Once you have entered the pool building there is a yellow bench in front of you for Car Seats to be left on.  Please also remove your shoes here.
Essential information:
Please do not come to the pool any sooner than 15 minutes before your class to avoid congestion on the poolside and in the changing rooms
IMPORTANT - Look out for and read the Puddle Ducks signs and notices please
Please do not enter the pool unless told to do so by your teacher
No eating or smoking on the premises
A well-fitting neoprene swim nappy must be worn with a disposable swim nappy or one of our environmentally friendly NappyWraps & Liners underneath if your child is in Floaties, Splashers or Kickers and in other programmes if they are not yet fully potty/toilet trained.
Why not buy one of our great value Starter Packs which contain everything you need for your swim lesson?
You can find goggles and other Swim Accessories here
You can find lots more useful information about attending our swim classes on our FAQs page
Changing rooms: 
Please remove all shoes before entering the pool area
There are two changing rooms (male and female) and a separate toilet. There are showers available too. Please bring a changing mat for your little one
Please supervise your children at all times whilst on the premises, so they do not go pool side by themselves
The School request that all nappies (swimming and daily) are taken home for disposal
Please bring a towel poolside for your little one
Exclusivity: Puddle Ducks has exclusive use of the pool during lessons
Access: Spectators may sit poolside but do bear in mind there is a limited amount of seating space
Technical information:
Pool temperature: 33°C - the pool is a hydrotherapy pool.  Due to the temperature please bring fluid to hydrate parent & child post lesson.
Customers are advised not to use the pool if they have the following contraindications (acute vomiting or diarrhoea/deep vein thrombosis, pulmonary embolism/acute asthma/resting angina/shortness of breath at rest/uncontrolled cardiac failure/paroxysmal nocturnal dyspnoea/poorly controlled epilepsy/unstable diabetes/thyroid deficiency).

Poolside assistant: The school priovide a poolside assistant at all classes.
Depth: 0.9 – 1.2m
Maximum class ratios:
6 children/adult pairs:1 teacher 
Helping you to make your special time last even longer…that's the Puddle Ducks' difference
We like to make life fun and easy for our Puddle Ducks customers so here are some local places we think you and your children may like. You could even meet up before or after the class with your Puddle Ducks classmates.
Closest café
Morrisons
Closest soft play
Wacky Warehouse - Squire Yorke, Wrexham
Other local attractions