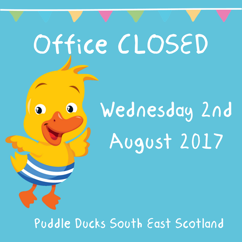 Our office will be closed on Wednesday 2nd August 2017 for our annual staff training and team building day.
We will close at 3pm on Tuesday 1st August as normal and will re-open at 9.30am on Thursday 3rd August.
If you need to contact us on Wednesday, please e-mail sescotland@puddleducks.com or phone 0131
6034608 and leave a voice mail. All queries will be responded to on Thursday.
Thank you in advance for your understanding.