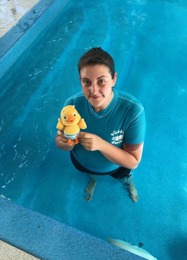 Huge congratulations to Lisa who has won the Puddle Ducks teacher of the term award for Summer 2017!
The winning nomination was this one, submitted by Nicole Findlay (Lennon's Mum) -
"Lisa has been fantastic from the start with Lennon. She appreciated he was older than the other babies but didn't make things boring for him.

When we approach the pool Lennon gets so excited and he loved the songs sung in the lesson.

Lisa is also great at keeping me calm. Putting him under the water was what I was most nervous about but now I do it no problem!"
Our independent judge was Louise Wilson (Editor of MADE Magazine). Louise had this to say about her selection:
"Lisa sounds like a brilliant teacher because she appreciates the ages and needs of each individual baby, and also deals with the parents concerns. Well done, Lisa"!
Congratulations again to Lisa and thank you to Louise for picking the winner.