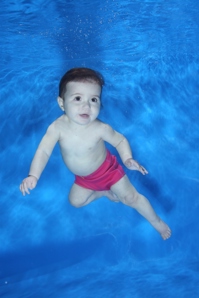 Our underwater photoshoots are a firm favourite with many parents.  Since Puddle Ducks is new to South Wales, our customers are invited to attend the Puddle Ducks Bristol photoshoot
The resulting pictures are often cherished by families for many years after they are taken, taking pride of place on the mantlepiece or in family albums.
These professionally taken photos capture the bubbles, smiles and splashes forever, and can provide happy reminders of your child's younger years and the fun they had learning to swim.
What happens at an underwater photo session?
We make the sessions as relaxed and enjoyable as possible
We always put the welfare of your little one first, and will not submerge a distressed child
You can go in the water with your child, just like in your usual Puddle Ducks class
You can have your photo taken under water with your child if you wish

It's important to note:
Floaties and Splashers are usually very comfortable during the session
Some Kickers and Little Dippers may not enjoy going underwater in front of a camera with teacher they're not familiar with
Finally, we do our very best to make sure you have a gorgeous photo to take home with you!
N.B. For child protection reasons we don't allow photographs to be taken during our classes and spectators aren't allowed to bring cameras or use mobile phones during our swimming lessons.
You'll know if your child will enjoy an underwater photo shoot if you can answer yes to these questions:
Have you been coming to Puddle Ducks for at least six weeks?
Is your child happy being submerged (put underwater)?
Is your child happy to be handled by a teacher they do not recognise? We can't always guarantee your child will have their regular teacher present on a photo shoot.
How to book 
All you have to do to book is send us your payment. The booking fee is £40 (please note this only covers the cost of attending the shoot and does not include the cost of any prints).
To book your place please contact Puddle Ducks in Bristol on 0117 971 7165 to make payment by credit or debit card.
Bookings can only be made when we receive your payment. Unfortunately we cannot book specific time slots in advance, although you are welcome to request a time slot and we will do our best to accommodate you.  Your time slot will be confirmed to you closer to the photoshoot together with anything else you need to know.
Spaces are limited and will be booked in on a first come first served basis… so don't miss out! 
The next underwater photo shoot will be held at St Mary Redcliffe School in Bristol on Sunday June 4th from 9am-1pm.