Ear infections are nasty and they don't just cause earache. The infection can lead to high temperature, irritability, poor feeding and restlessness at night time.
Swimming cannot cause an inner ear infection, however it can be responsible for outer ear infections. It's really easy to rush getting out the door after your swimming lesson, try following the tips below to keep your family healthy-
Dry the ear with a towel and avoid putting anything into the canal such as a cotton bub.
After swimming make sure the ear canal is dry by gently tipping the head to one side and then the other to allow natural drainage.
Sometimes a small air bubble can form so it is worthwhile repeating this until you see or feel the water drain away.
Make sure that the swimmer has a hat to wear after the session - this is extremely important.
If the ear has not been dried properly, water can collect in the ear canal and accompanied by cold weather an ear infection can occur. Parents this means you too, don't forget to pack a hat for yourselves! You should even have a lightweight hat in warmer weather if possible.
If you have persistent problems after following the tips above you might want to try protective ear drops such as the ones from SwimSeal.com. Just a couple of drops will waterproof the ear canal for up to three hours to prevent ear infections, and it's suitable for all of our class levels (except Floaties). Team it up with one of our swimming caps and make sure the ears are covered.
Swimming during Winter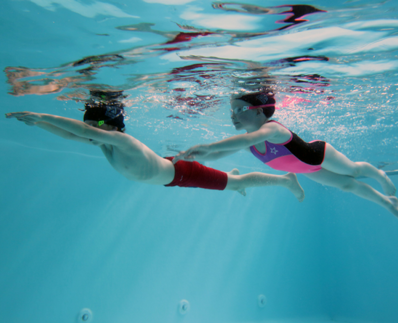 Like all exercise,  swimming is a great activity to do in the winter. It boosts the immune system and releases endorphins to make us (and our children) feel great! Getting in a warm pool can be lovely and just the boost we all need, plus it's indoors so the perfect way to escape bad weather.
Starting or continuing swimming lessons throughout the winter can be just the confidence your child needs to have an amazing summer holiday in six months time! 
Don't forget to bring your warm towels poolside to wrap up as soon as you step out the pool, and young children might benefit from one of our wetsuits or body warmers if you're worried about them getting cold. We'll inform you if baby wetsuits are needed at any of our lessons.
FAQ's
Parents often have lots of questions about swimming with their little ones. We've tried to answer some of the most common questions we get here, but if you need more help or advice, please don't hesitate to contact us.
Our Pools and Classes

We're very proud to provide a wonderful swimming journey from birth to 10 years.

Our programme is designed by leading baby and child swimming experts and are held at pools across South West London including pools in Tooting, Hounslow, Wandsworth, Southfields and Richmond upon Thames.

We will help you choose the right class for you and your little one and then be there every step of the way on the wonderful, rewarding journey that is learning to swim.