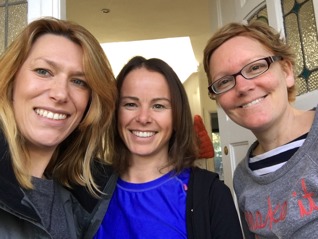 Yesterday I had the pleasure of meeting, (and bullied into having their photo taken with me!) Racheal and Katie from Ickle Pickles. Katie, on the right, volunteers after giving birth to her baby girl (now 8 years old) at 31 weeks and spending time in NNU.
Ickle Pickles was co-founded by Racheal after she gave birth to her first son Charlie, at 28 weeks in 2008. He spent 34 days in intensive care, 9 days in high dependency and 40 days in special care. Happily, he's now 8 and a happy, thriving boy!
Since then the charity has grown considerably and now fundraises for special neonatal unit equipment for several hospitals across the country. The charity is run on a small but dedicated team of volunteers each working within their local community. This means that the money we raise during pyjama week will make a massive difference to our local community, as it will go solely to buy equipment at the neonatal unit at St George's Hospital, Tooting. 
If you've ever been in St George's NNU you will have seen that some of the incubators and other specialised equipment have little plaques on them showing they've been donated by Ickle Pickles. Hopefully with the money Puddle Ducks raises will be able to provide another piece of equipment very soon.
We will be swimming in our pyjamas (both parents and children) during all classes next week, 7th – 13th November and trying to raise as much as we can for this great charity.
You can donate straight to our Just Giving page or print a sponsorship form for your little one.
Cathy x