Now your youngster can swim and jump in unaided, the primary aim in Dippers is to develop swimming and rhythmic breathing skills. The style of the class is similar to Little Dippers, but expectations are greater - for the first time in our Puddle Ducks programme, all the children have joined this class having achieved certain key skills.
Parental/guardian involvement will lesson during Dippers classes, however you are still in the water and close enough to offer your Dipper support and reassurance when needed. 
What happens during a Dippers class?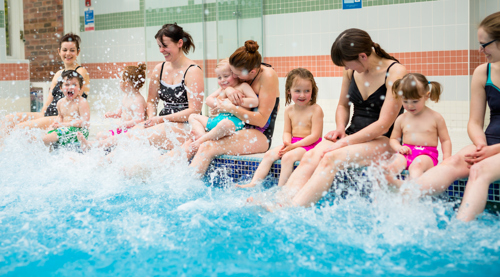 Your child can swim a short distance now and these classes are structured to help him or her swim further by gradually increasing their exhaling capacity, helping them develop a natural style of kicking that gives them a horizontal position on the surface and teaching them new techniques to enable them to breathe without losing that alignment. 
Important fun activities include jumping in and diving for sinking toys, with an emphasis on listening and responding to the teacher, and lengthening their independent swimming time.
Dippers are introduced to rolling to breathe, which is the first stage of front crawl breathing.
There is an opportunity for your Dipper to achieve their 5m distance award.
What is the involvement of the parent/guardian?
Key words are extremely important in Dippers, as your child needs to understand clearly what is required of him or her. Try to use these same key words when you go swimming outside of class time to reinforce the learning.
You can enjoy playing games with your child as he or she swims towards or away from you. Make use of the bar, of floating and sinking toys and let them show off! You will probably find all he or she wants to do is swim back and forth. Back and forth! How proud your little one is now, of their skills. So can you be!
Help prepare your little one for being in the water without you. You can do this by 'keeping a safe distance' whilst your Dipper is on woggles. Not close enough that they rely on you for support but not too far away to assist if they fall off.
Practical class information
If your child is not yet fully toilet trained, please make sure you use the double-nappy method for your child - a disposable swim nappy or one of our great value (and environmentally friendly) NappyWraps & Liners, covered with a well-fitting Puddle Ducks neoprene swim nappy. These are available to buy from our online shop.
If your youngster is now fully potty-trained, we recommend cropped lycra shorts for boys (as Bermuda style shorts cause drag) and one-piece swim suits for girls.
We often have parents who have a fear of water, but we never force any parent into doing any activity they are not comfortable with. It is up to us to make you feel comfortable in the water so that you can pass positive feelings onto your baby - let your teacher know and they will advise you.
We know that many parents like a record of their youngster's activities and achievements. Badges and certificates can be purchased from our online shop.
Finally...
Many parents ask us what they can do between classes to reinforce the activities. At home, making bath-time a regular, fun activity is key. Give your child as much freedom as possible with plenty of water-pouring, floating and sinking toys. Encourage bubble-blowing and sing the Puddle Ducks' songs together and play games (the goodbye song can even help to signal the end if your youngster likes to stay in for a long time!)
Our next stage up from Dippers would our Swim Academy classes, where your child may experience being in the water without you for the first time! 
We run classes in Tooting, Southfields and Richmond!

Contact us today to find a class to suit you!

Our pools and classes

Join our Puddle Ducks team!

Check out our website for our current vacancies!

Current vacancies