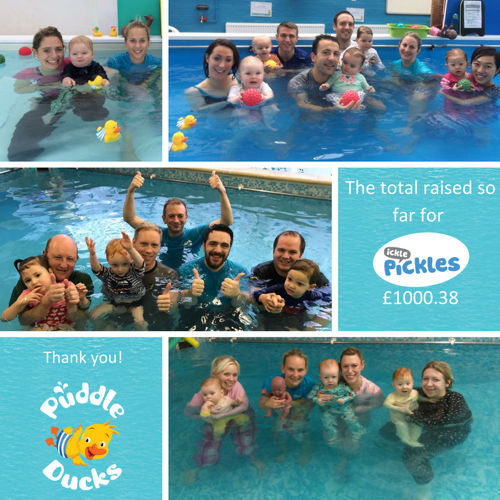 From 7th to 13th November all our little Puddle Ducks and their grown-ups came to their swimming lessons wearing their pyjamas to learn about important water safety and raise money for Ickle Pickles at St George's Hospital.
Ickle Pickles was a clear favourite when we asked our swimmers and the local community to suggest a charity for us to support. The charity uses donations to purchase specialised equipment such as incubators and ventilators, improve facilities and raise awareness about neonatal care across the UK, and all the money we've raised will go straight to our local hospital St George's.
It has meant so much to all of us at Puddle Ducks to support Ickle Pickles, so many of our swimmers have spent time at St George's NNU and have been supported by them. We want to sincerely thank everyone who donated money and bought a raffle ticket, together we raised £1000.
We practice lifesaving skills every single week here at Puddle Ducks, and pyjama week is a favourite week for us. If your little one were to fall into the water accidentally it is likely they would be fully clothed, for this reason three times a year we all swim in our pyjamas to remember how different it feels. It's great fun but is an important reminder.
We had some amazing raffle prizes to give away, all donated by the amazing businesses below, and lots of very happy winners!
Puddle Ducks Swimming Lessons – Chantal Brooks
Induco Luxury Food Hamper – Gavin Bonner
The Little Gym of Wandsworth and Fulham – Amy Callaby and Louisa Beeby
The Canbury Arms Meal for Two – Amy Callaby
First Aid for Life course – David Shaw
Muddy Knees Kids' Rugby sessions – Philippa Chappell
Clapham Baby Sensory classes – Olivia Evans
The Baby Care Company sleep consultation – Rachel Smith
Kindle supplied by Jennie Reeves – Shannon Livanos
TinyTalk Lessons - Emma Dowsett
Singing It Back Festival Tickets – Katy Pike
Hello Mums Babysitters Membership - Ross Aubrey
Lala and Bea Hat - Nicki Tattersall
Nutripilates Lessons – Gemma Bullmore
Masterplan Family Diary – Louise Hanning
Thank you once again to everyone involved. We'll be doing it all over again for another charity next year!
Head over to our Facebook page to see more photos.