We understand that things come up and you may not be able to attend every class so here at Puddle Ducks we offer Courtesy Classes to our current customers.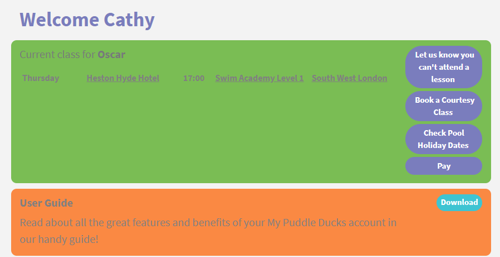 To generate a Courtesy Class for you to use, you need to let us know if you can't attend a class at least 24 hours before your regular class takes place. You can do this via your My Puddle Ducks account on both your Overview page and also your My Children page by clicking on 'Let us know you can't attend a lesson' and following the instructions.
If you have any Courtesy Classes available simply hit the Book a Courtesy Class button and click on your chosen class, it's that simple!
 Terms and Conditions 
You need to lets us know you can't attend a lesson at least 24 hours before your class takes place to receive a Courtesy Class
Courtesy Classes can be booked 7 days in advance
When booking a Courtesy Class the website will show you all classes in the correct level

 

with availability, so if there isn't a class suitable for you it might be worth checking again nearer the time
You can book a Courtesy Class up to one hour before the class takes place
If you make a booking within 24 hours of the class you will receive a confirmation text that you must show the Swimming Teacher/Poolside Assistant (this is to make sure our registers are correct)
If you, or your child, has a medical condition, it is your responsibility to inform the Teacher so we can amend activities accordingly, if necessary.
Courtesy Classes are valid for 6 months from the date they are generated
You need to be a paying customer to book a Courtesy Class and they can't be tagged onto the end of your lessons
If you take a break from your swimming lessons, any Courtesy Classes will still be on your account if you return, provided it is within the 6 months
Courtesy Classes can be cancelled, up to 24 hours before the class takes place and this will place the Courtesy Class back in your online account with the same expiry date as it originally had.
If you have booked a Courtesy Class, please don't arrive at your lesson. Another child may have booked into your space and if the class is full we cannot exceed our maximum class size.
Our aim is to make the system fair for everyone and by requiring you to let us know you can't attend a class, you get a Courtesy Class and your space is freed up for one of your fellow Puddle Ducks/Swim Academy students to use, so everyone will find it easier to book a Courtesy Class.
Other features on your My Puddle Ducks account:

Pay lesson fees
Sign up to Recurring Payments 
Check your pools holiday dates
Keep your contact details up to date
Recommend your friends to Puddle Ducks - £10 discount from your lesson fees for every friend who books in!
Check your child's progress - available from our Kickers class onwards