I'm Kirsty from Navigating Baby and I write about raising my 4 crackers littles.  I have two singleton boys and then after going for number 3 I was shocked and blessed to have very lively twin girls.  My children can be found tearing around my house playing ninjas, loving one another or driving one other crazy. I can be found alternating between drinking coffee, pleading for order and writing about the chaos at www.navigatingbaby.com. (Photo by Kirsty Hamilton Photography)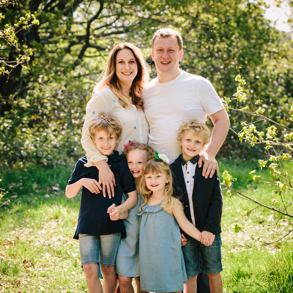 All children seem to go through an 'I hate vegetable phase'.  If you are responsible for feeding a family and have a fussy eater (or in my case 3!) on your hands then I have a solution for you.  It is my hidden vegetable tomato sauce.   
One of my son's couldn't tell you where his socks or shoes were even if he just took them off, but show him a meal with vegetables in and he is suddenly like eagle eye.  He can spot a finely chopped carrot at about 50 paces.  So, it took a while to come up with a way of getting vegetables into him.  This sauce is my answer as I can use as the base for so many different meals.
The other thing I have learnt since I started for cooking for kids is that the freezer is your best friend.  I love a bit of batch cooking and this sauce can be made in advance and frozen for addition to any of the meals below.  You can put in all kids of vegetables without those little people noticing that they are getting some nutrition and even eating something green…
Top Tip:  When your baby has finished weaning don't throw out those baby food ice cube trays.  I always freeze this sauce in the cube trays and then I can simply pop them into the pot like a stock cube. Or defrost quickly in a microwave.
Hidden Vegetable Tomato Sauce
You will need:
1 tin tomato chopped
A carton of passata
1 beef stock pot
500ml water
2 slices smoked bacon (use low salt or omit for very young children)
2 carrots
1 clove of garlic
1 red onion
2 courgettes
1 stick celery
1 red pepper (the taste of this is most noticeable so leave out for the very fussy)
A large handful of spinach or kale (don't go mad here if you choose kale as again this could be detected by the super fussy)
Pepper and Dried Italian herbs (to taste)
Method:
Peel courgette, onion and carrots and roughly chop
Chop celery
Finely chop or grate garlic clove
Put 1 tbsp olive oil into a large pot which has a lid and heat on a medium heat
Add celery and garlic stir for 1 minute
If using chop bacon and add to pot
Add courgette, onion and carrots and stir-fry for a few minutes just till onion softens slightly. Try not to add colour to vegetables
Add chopped tomato, passata, stock pot and water
Take a handful of spinach or kale and add it to the pot
Add dried herbs and pepper to taste
Stir, cover and leave on a low heat for 30 mins or until carrot is soft. You want flavours to mix without reducing liquid volume too much (If you have a slow cooker you can chuck all the ingredients in and leave it all day blending just before serving)
Use a hand held blender stick to blend together in the pot or transfer to a liquidiser and blend
Either serve immediately with pasta or leave to cool and freeze in small portions
Quick Tip:  If you taste at the end and can taste the kale or any other of the vegetables then add a small squirt of tomato ketchup.  I know, I know it is full of sugar, but it is such a small quantity when divided across the number of portions that I don't think it will be the end of your children's teeth. 
I am so sneaky!!!  One day they will catch me, but hopefully not before they are willing to consume vegetables in their original state other than tomato, broccoli and cucumber.  
5 other Recipes that use my hidden vegetable sauce:
Chicken Korma (Style) Curry

Simply add mild curry powder, double cream and chicken to the tomato sauce.  Make sure chicken is cooked through before serving and add a knob of butter to the finished dish.

Pizza Roll Ups

Using a ready-made puff pastry sheet spoon the tomato sauce onto it and spread the whole sheet.  Add cheese and perhaps ham or any other pizza toppings your children enjoy.  Roll up like a swiss roll and then cut into one-inch swirls.  You can freeze them uncooked and then cook at around 180 degrees C for 15 mins until pastry is cooked and lightly browned.

Beef Bolognese

Brown off mince in a large sauce pan and then add enough sauce to make a ragu style sauce.  Simmer gently for around 30 mins to let meat take on sauce and vice versa and then serve.  You can also do this with Chicken or Turkey mince for a non-red meat option.

Chicken and Mascarpone Pasta

Shallow fry bite sized pieces of chicken breast and once almost cooked add tomato sauce and a large tablespoon of mascarpone.  Stir to combine and then serve with pasta.  My children also like pancetta added to this.

Beef Chilli

Brown off mince and add the pre-prepared tomato sauce along with as much chilli powder as is reasonable for your children.  You could also add a sachet of chilli con carne mix if you prefer.   Add Kidney beans and simmer gently for 20 mins before serving with rice and a dollop of soured cream.