Sarah from the Surrey Mama Blog (www.surreymama.com) and Meet-Ups (@surreymama_meetups) has been reviewing our swimming classes in her blog and she has written all about the swimming journey her two little girls have embarked on this year with Puddle Ducks and Swim Academy South West London.
JANUARY, 2019
Swimming is one of those life skills I personally think are so important. Not just for the exercise, but for water safety. I learned from a young age as my Mum was a swimming teacher/Head of PE and I have always wanted the same for the girls.
When Amelie was teeny tiny we started swimming lessons, but I found them a little scary if I'm honest. There was a lot of focus on getting the babies to go underwater and I just found it terrifying. When we moved areas when Amelie was 6 months I just wasn't keen on these lessons anymore and stopped them. Fast forward a second child and having two at home and swimming lessons just weren't easy to fit in.
The girls swam on holiday and occasionally and that was it and as such both weren't very confident in the water. I have felt huge guilt recently about that so when Puddle Ducks South West London got in contact with me to try their new classes at Whiteley village I was thrilled for the girls! Their mission is to teach every child to love swimming and to respect the water something I thoroughly agree with.
Cathy and Pete own the South West London franchise and say "We began baby swimming with our first two children when they were born in 2011 and 2015, and have watched in wonder as our precious little boys develop in confidence with every lesson. They have learnt invaluable water safety skills, and we always have a lovely experience sharing special moments in the water together"  I've met both Cathy and Pete and they are so passionate about the lessons and are really brilliant in recommending the right classes for little ones.
We started our Puddle Ducks journey in October and chose the Little Dippers class for Amelie and the Kickers class for Evie. Amelie at 4 could have started in an older class but she would have been in the water without me so we decided it would be better for her confidence to start in the Little Dippers class (3 months – 4 years) and see how she progressed.
On our first lesson at Whiteley village, we pleased to see a small, well-kept pool. The pool itself is smaller than you may be used to but I love this, it's quiet, feels very calm and both girls seemed right at home at their first lesson. It's also lovely and warm (so warm when we went to take pictures our camera steamed up)!!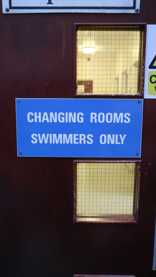 One of the reasons I think both girls developed a bit of a phobia of the water was swimming in a local pool that was freezing. They both seemed blue after only a few minutes and desperately wanted to get out and since then we have really had to try and get them confident again. I tried doing both lessons on one day but it didn't work out for us, Amelie sat beautifully but Evie at two just wanted to be in the water at the same time, so I made some childcare changes and they now have lessons on different days. Amelie watches Evie but Amelie and I do the lessons alone.
Because of the different swimming days, the girls have different teachers and they are both SO LOVELY! Both of them welcome all the children to the class and the lessons always start with the Mums/Dads getting in the pool whilst the little ones wait until they are safely told to get in. Then it's into a welcome song which both girls love.
After the welcome song the classes start and the activities/lesson vary due to the age of the children. In Amelie's class there is a lot of blowing bubbles on both the surface of the water and with their heads under the water – really to get their confidence in the water up. They also do lots of swimming with woggles, practicing pushing off from the side without assistance, laying back in the water and swimming with us and at the end an opportunity for play.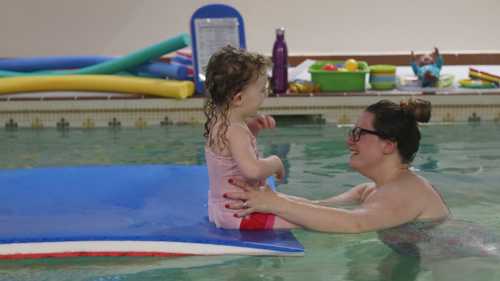 In Evie's class there is lots of bubble blowing, swimming with me so she can learn to kick her legs, throwing ducks and then swimming to reach and get them, jumping and bobbing the water to songs, water play and her favourite – jumping in (but making sure she is listening to instructions and not just jumping in)! Evie also quite enjoys getting a bowl, filling it with water and tipping it over my head (for obvious reasons).
I've found Evie's journey a little different to Amelie's. Evie is a daring two-year-old who wants to do everything herself so the first few lessons were spent trying to teach her that if I let go (which she always wants me to do) she'll frankly, sink. Maggie has been amazing, trying techniques to get Evie to listen and different activities. She is so patient with us both and by the end of the term got Evie doing things she would have never have done with us. I am really thrilled with how much she has improved in a few short weeks.
All the lessons are tailored towards the children so if Evie wasn't cooperating she'll mix things up to get her involved. I really think this approach has made Evie more respectful of the water and has also taught her some new skills that she would have never have done with me! By making the classes slightly different and giving her the parts of the activity she did want to do she's learnt so much!
Amelie has grown in confidence massively over the course of the term. She smiles throughout, is dipping her head in the water which she would never do, she's lying back in the water (again something she'd never do) and is absolutely thrilled with herself when she's pushing off the edge and then swimming on her own (aided by woggles).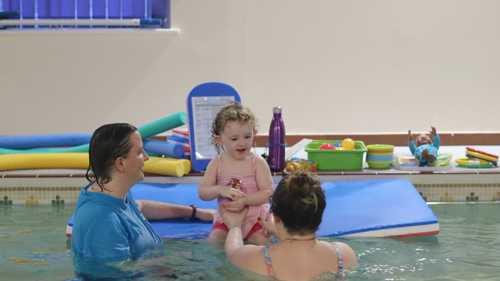 I am so impressed with the team and the way they have got both of the girl's confidence up in the water and importantly starting to teach them the foundations of swimming and water safety.
OCTOBER, 2019
When the girls started swimming lessons they started in Little Dippers (Amelie) and Kickers (Evie). Amelie was very nervous of water and clung to me and Evie had no fear – she didn't want to be held and just wanted to swim on her own! 
The lessons had different challenges and objectives for the girls – Amelie to become more confident in the water and ultimately move into Swim Academy 1, which is a class where they swim without parents and Evie to have a little bit more respect for the water and to start learning some basics. 
They have both absolutely thrived in their lessons. Puddle Ducks have such wonderful teachers who put children at ease as soon as they are at the side of the pool, have strategies to help children like Evie who need a bit more help and importantly make the lessons fun with lots of water safety built into activities.
Over the last couple of months, the girls have both progressed into the next stage of classes (Amelie Swim academy 1 and Evie Little Dippers) and it's now I am starting to see such progress from both.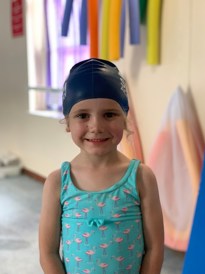 Amelie's Swim Academy class is fairly small with two teachers and it has meant that even though in her first lesson where we had lots of tears about going in the water without me by lesson 3 she was confident and happy with going in alone. The teachers in Amelie's class are wonderful, they encourage but don't push her and are always quick to praise the children when they have achieved something! This strategy has really worked with Amelie and I can't believe that 6 months ago she'd cling to me in the water whereas now when we go swimming she pushes off the side and doesn't look back!
Evie has also progressed into the Little Dippers class and being the youngest has been great for her as she is trying to do everything the older children are!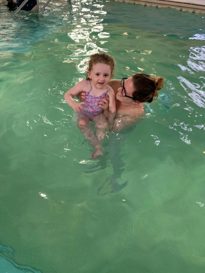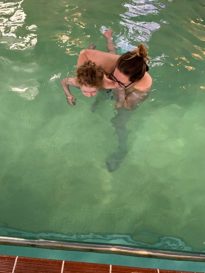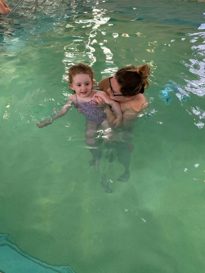 The Little Dippers class is really helping Evie become more confident and happy in the water with me (at first she wanted me to let her go so she could swim alone, which obviously she couldn't)!
The pool is warm which is perfect for younger children and there are never more than ten children in a class so it feels really personal and you can always ask questions! Evie really loves the songs that are used in classes and it helps keep her engaged!
At the moment Evie is learning how to swim with the aid of a woggle (and me) both on her front and back, she's learning how to jump in and importantly there are lots of special lessons like PJ week where children are taught the importance of water safety, including personal survival.
The change in the girl's confidence around water and the way they act isn't something that has happened overnight and I don't think that they would have had the same progress with me trying to teach them whenever we manage to go swimming. The Puddle Ducks classes are such an important part of their growing up and I love watching how much they enjoy and thrive in their classes!
Amelie's aim now is to beat me at a swimming race and Evie's is to jump as high as she can, so let's see when that happens!
For more information about Puddle Ducks South West London swimming lessons, suitable from birth to 4 years, and where you and your little one can swim, visit our website!  

Learn more

Kids of all abilities love the Puddle Ducks Swim Academy! Suitable for primary-school aged children aged 4 to 10 years old, visit our website to find a pool near you.

Learn more