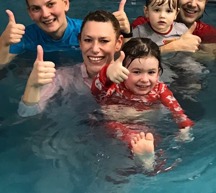 It was our eldest son, Oscar's fifth birthday yesterday. He doesn't even realise but it's all thanks to him that we discovered Puddle Ducks, and are now proud franchisees, he was our inspiration!
Monday was a big day as it marked his last swimming lesson (luckily it was PJ week so a really fun class), I was more emotional about it than I was his first day at school! Now that he's five, he's really too big to be taking part in a pre-school class, and he'll be taking the big step to having lessons without a parent in the water with him, at our local leisure centre.
Anyone who's ever seen Oscar in class will know he's not the most confident of children in the water. As in all aspects of life, he does things his way, we affectionately say he marches to the beat of his own drum! Over the years he's been taught by Pete, Kirsty and Leanne, and he's certainly tested the Puddle Ducks' philosophy that all children progress at their own unique pace. We've always celebrated the things that have been big achievements for him- being brave enough to sit on the float(!), jumping off the float, not clinging to me for dear life, and finally swimming on two short woggles, kicking his legs, reaching with his arms and putting his whole face in the water to blow bubbles all at the same time!
Oscar's progress may have been slow, but I can honestly say I have enjoyed every lesson with him, and this is what I love about Puddle Ducks classes. Each child is different and cared for in a way that's suitable for them.
Our next challenge is to launch Swim Academy classes, suitable for school aged children, so Oscar can come back to join the Puddle Ducks family.
Cathy x