Happy Birthday to us!
6 years ago this week we taught our first classes to a handful of customers, it's wasn't quite the busy first day we were hoping for but our little business has grown steadily every year and we were thrilled to reach the milestone of teaching 600 customers a week :)
This week also marks 7 years since we first experienced baby swimming as parents, when our eldest son Oscar had his first swimming lesson!
Before Oscar was born we had heard about baby swimming from friends and Pete decided he would really like to take our new baby when he was born. Like many new Dads it seemed like the perfect activity to do with a newborn, a chance to bond and learn a life skill.
Oscar started swimming when he was around 2 months old, he looked completely bored throughout his first lesson, in contrast to his parents who loved every second of it!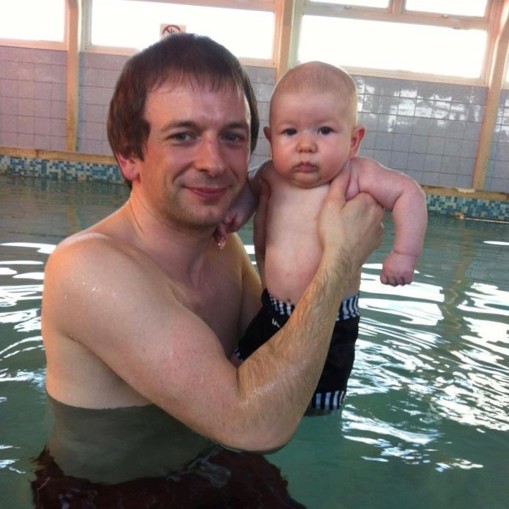 It was when Pete was researching baby swimming providers he discovered Puddle Ducks. The Puddle Ducks ethos stood out from the other baby swimming companies - it was child led but still progressive, caring, full of detail, and fun!
Sadly the nearest classes were over 50 miles away, but happily Pete was so enthusiastic about the company he set about to become a franchisee. A year later after a very intense year of training he was in the pool teaching classes, and we have never looked back!
Oscar is now seven and swims in our Swim Academy classes at Whiteley Village. It's all thanks to him we have this wonderful business and get to teach so many little ones essential life skills and water safety, it's a huge PRIVILEGE!
Of course there are always pressures of running a small business, especially when working with factors beyond our control, but every time we have a lesson with one of our own children it's an such a wonderful experience, and remember why we love baby swimming and why we love Puddle Ducks! 💙
Thank you to an amazing bunch of swimming teachers, poolside assistants and office team - Helen, Kelly, Sinead, Andy, Maggie, Becky, Lauren, Sara, Katie, Marian, Julie, Angela, Yolanda, Nevin, Natasha, Alessandra, Monique, Kerry, Hajera, Yohanna, Jess, Laurenna.
Pete and Cathy x
Become a Swimming Teacher

RECRUITMENT AFTERNOON

Saturday 16th March 2019. 1.30-5.00pm.

Aspire Centre, 337 Merton Road, Southfields, London. SW18 5JU

Puddle Ducks provides excellent training, which consists both external and internal qualifications followed by on-the-job training, Puddle Ducks teachers are the most highly trained in the industry. 

You don't need any previous experience to apply, the positions available are suitable for existing swimming teachers or for someone looking for a complete career change.

We offer all training, a competitive salary, and heavily discounted swimming lessons if you have children of your own. 

Join us on Saturday 16th March to find out more about joining the team.