Our Poolside assistants help us out in so many different ways and we have some vacancies available!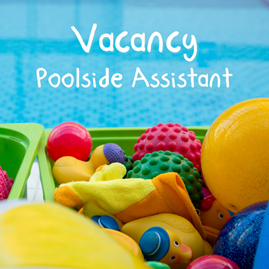 This is a part time, but permanent only role. Applicants are invited to apply for other available roles to increase their hours.
It's a dry role, you will be poolside at all times!
Saturday 8.15am - 11.45am at Broadwater Primary School, SW17 0DZ (Term time only)
Sunday 8.15am - 3.15pm at Strathmore @ Grey Court School, TW10 7HN (Term time only)
Monday 3.00pm - 6.00pm at Strathmore @ Grey Court School, TW10 7HN (Term time only)
Wednesday 2.45pm - 6.15pm at Whiteley Village, KT12 4EH (All year round)
Role Purpose
To provide assistance to the Teacher in an emergency.
To ensure customers receive the highest customer service possible
To ensure the pool area is clean, tidy and safe for customers
To provide assistance to the teacher where necessary to improve the customer's swimming lesson
This is a fun and interactive role, you must be: 
Friendly, professional and approachable
Happy to take to customers 
Comfortable around children and their parents 
Proactive and hardworking
Full training will be arranged so no experience necessary. You will receive a competitive rate of pay, uniform and discounted swimming lessons if you have children.
£8.50 p/h
It is imperative you have a clean DBS record (formally CRB).
Please complete the form below and Sinead will get back to you with more information.