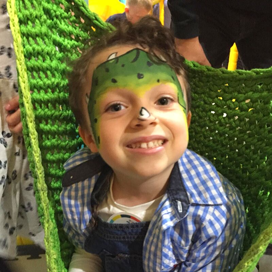 In this week's blog we're pointing the spotlight on one of our superstar star swimmers, Emerson!  Emerson swims at our Whiteley Village pool with swim teacher Maggie and we are so proud of all his achievements in and out of the pool.
At the age of 19 months, Emerson underwent over five hours of surgery after receiving the devastating news that he was diagnosed with a Spinal Cord Injury caused by an arachnoid cyst on his spine. Following surgery life changed dramatically for Emerson and his family, Emerson was unable to move his body, paralysed from the chest down.
It was heart breaking for Emerson's family to watch, he was unable to physically move around the room, he was robbed of his independence and his confidence was shattered from spending over 6 months in hospital and a spinal cord injury unit. 
After intense research the family learnt that if there was any chance for Emerson to regain any sort of recovery and slow down the additional medical complications that come with a spinal cord injury, they needed to remain positive and took up the mantra #anythingispossible #youcandoanything.
The family set about making it possible, they sought the support of many Spinal Cord Injury professionals such as physiotherapists and they sourced specialist equipment that would enable Emerson to have an independent life and not let his disability define him.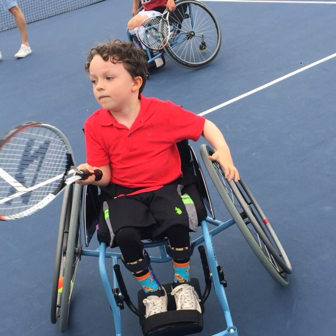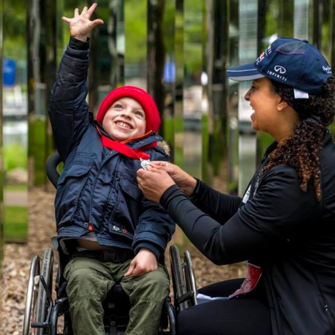 It hasn't been easy, the additional medical complications that come with a spinal cord injury if not managed well are life threatening.  The arachnoid cyst has returned 3 times, taking away more neurological mobility and function.  It is currently remains too high risk for surgery.  The next surgery will need to be more intense and aggressive and will most certainly cause more neurological deterioration, loss of upper body function.  The family have been told by medical professional, lets wait ad see what happens, when Emerson shows significant deterioration, he will have his high risk surgery.
The family take everyday as it comes making sure that Emerson is able to do all the things that he desires, but sometimes in a different way with a little tweak here and there. 
They are thrilled, as are we, that 4 year old Emerson is attending our weekly swimming lessons at Whiteley Village in Hersham.  Every week he is gaining strength and confidence, as well as having lots of fun with his teacher Maggie and the other able- bodied children and parents.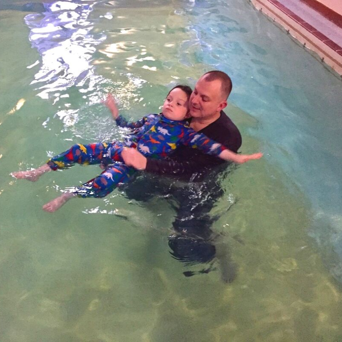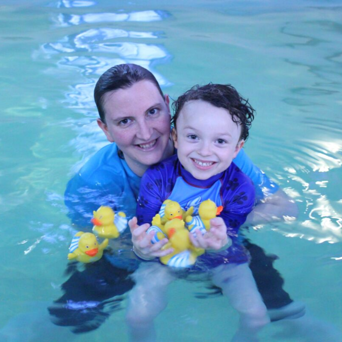 Cathy, one of our co-owners, says: "Emerson is such a lovely, happy little boy who really loves being in the water. Each week it's always a real pleasure for his swimming teacher, Maggie, to be in the water with Emerson teaching him techniques such as entering the water safely, exhaling in the water and independent swims from parent to teacher for short distances. We are honoured that the family chose and entrusted us to teach Emerson such an important life skill. They really are an amazing family who want the very best for their little boy.
"Accommodating our lessons to fit everyone's needs is part of our ethos. Learning to swim is a skill that everyone should have access to. " 
Anna-Maria, Emerson's mum, says: "Two years ago it broke our hearts seeing our lively toddler become very shy and withdrawn; he wasn't the boy we once knew. But now Emerson has really come out of his shell and sets himself daily goals to help improve his mobility every single day".
"He loves his weekly swimming lessons with Maggie. She is great and always makes sure he is having so much fun, while he gets stronger and of course is learning all about the water and swimming. Emerson is our super hero and is an inspiration to us all, and I hope he will be to other people in a similar position!"
Well done Emerson, you are truly an inspirational Puddle Ducks superstar!