Hi, I'm Katie!
I live in South Croydon with my two beautiful boys and my little princess.  I left school at the age of 16 to study for a diploma in childcare at college.  After graduating, I worked as a nursery nurse for a number of years and then as a private nanny for a lovely family in Ealing.  Five years later I had my first son Lucas - I continued for another year as a nanny taking Lucas with me, until I decided to return to nursery nursing.  Following the birth of my second son Harley, I decided I needed a change and went into the adult care industry. I absolutely loved helping those in need on a daily basis but when I feel pregnant with my daughter Phoenix, the driving that came with the job became a little too much.  Once Phoenix arrived, I didn't know what I wanted to do work-wise but I knew I wanted a new exciting challenge. I came across an advert for vacancies at Puddle Ducks South West London and here I am, a year later, working for an amazing company at weekends which enables me to look after my children during the week.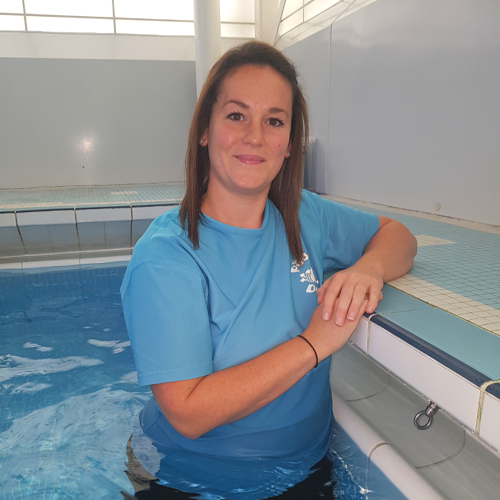 Tell us about your journey so far with Puddle Ducks?
I joined Puddle Ducks in July 2018. I was looking for a new career and a new challenge as I was on maternity leave and didn't want to return to the care job I had been  working as. I stumbled across an advert for a swimming teacher vacancies and it really jumped out at me. I thought I could do this. I love swimming and I love working with children, helping them to develop and learn new skills. So I applied and I have been working with Puddle Ducks for a year now - 6 months as a Poolside Assistant and 6 months as a Baby Pre-school Teacher. 
Why did you choose to train to be a Swim Instructor? 
I have always had a real love for being in the water and swimming. I also love working with children, helping them to learn new skills and to develop into beautiful little people. It had always been a passion of mine to work with children as growing up my mum was a reception teacher.  When i stumbled across the advert for swim instructor I thought this is perfect, two things I absolutely love in one job so why not give it a go!
I also had a child who had developed a fear of water and another who absolutely loved being in the water. It felt like a great opportunity to help other children and adults develop a love for water but also to teach them how to be safe at the same time.
What did your teacher training consist of? 
A number of hours in the pool with various teachers watching them teach and joining in with the lessons
Three days at an STA baby and pre-school in Stratford at the Olympic stadium
A two day STA life saving course
Two weekends in Bristol to attend the Puddle Ducks baby and pre-school training programme
Once training was complete, a number of hours in the pool co-teaching, gradually building up to teaching a full class with another teacher in the water
An assessment from a Puddle Ducks tutor
And to my delight I successfully passed which I was overjoyed about!
Who were your tutors and what did they do? 
My baby and pre-school tutor was Tina Bryant. She is an absolutely amazing tutor with a real passion and love for working with Puddle Ducks. She was thorough and helped me when I found it a little overwhelming and daunting at times.
What do you get the most excited about in your job?
I am most excited about the progress I can make working with Puddle Ducks, being able to progress onto Swim Academy training and also being a big part of a child's journey as they learn to swim.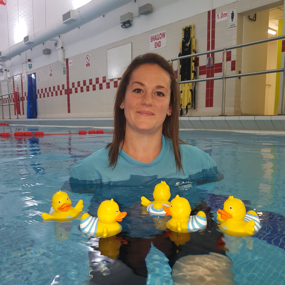 What do you get nervous about?!
Every week before I start my lessons I do get a bit nervous! The whole concept of teaching children a very important skill is nerve raking, but once I get into the pool those nerves subside and i get into my role as a puddle ducks teacher and i absolutely love the lessons, singing the songs and teaching.
What is your favourite Puddle Ducks activity?
One of my most favourite activities an activity we do in our Dippers class. The activity is throwing, turning and swimming to parents. The children absolutely love this activity of being thrown into the water and having the opportunity to turn back to their parents. What child doesn't like being thrown in the air or in the water?! This class is such an upbeat and fast paced class, I love it!
What do you love about Puddle Ducks in general?
I love that Puddle Ducks' activities are all child led, giving children the opportunity to choose what they do and do not want to do. I love the atmosphere at Puddle Ducks but most of all I love building relationships with parents and children doing an activity that they love.
Tell us something about yourself we might find surprising....
I have a love for adrenaline. Five years ago I jumped out of an aeroplane at 15,000 feet with my brother and it was one of the most amazing experiences ever! My next adventure is a bungee jump!
Thanks Katie!!!
Katie teaches our baby and pre-school classes at Riversdale Primary School in Wandsworth on Sundays and Aspire Centre in Southfields on Saturdays and Sunday.
For more information about our Baby and Pre-School swimming lessons, contact us on southwestlondon@puddleducks.com or call us on 020 8546 8470.

We look forward to hearing from you!