Hi, I'm Maggie!
👋
I currently live in New Malden but I originally grew up in South Africa and moved to the London 16 years ago.  South Africa will always be in my heart, but the UK is my home. I've been married for almost six years - I met my husband here even though he is South African. We have a beautiful but cheeky son who is almost 4 years old.  My mum lives with us now and it is so nice having my family here.  My career has always been working with children - I feel really privileged to have been able to work with children in all different settings. I have learnt and continue to learn from children every day!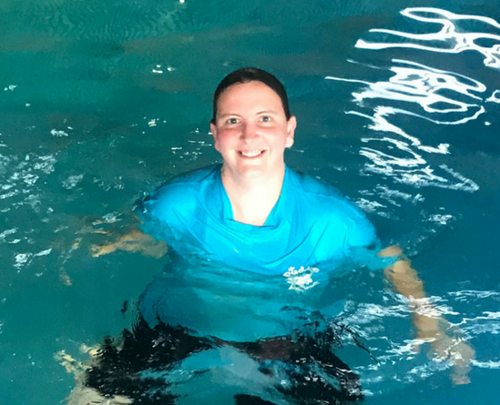 Tell us about your journey so far with Puddle Ducks and Swim Academy.
In the middle of 2017 I saw a job on Facebook for Puddle Ducks as a Poolside assistant. I went to meet (co-Founder) Pete for an interview and, in a déjà vu type moment, we realised we had met before when I had brought the kids I was caring for to swimming lessons a number of years ago. To my delight I started as a PSA.  It didn't take long for the teaching bug to bite. Due to family and other commitments I had to put the teaching idea to the side for a little while but finally everything aligned and in March 2018 I began my training.  I have now been teaching for over a year and I love every minute of it.  I had said once I had taught BPS for a year I would think about Swim Academy and it was almost to the day a year I carried out my SA training.
What can you tell us about your training journey with Puddle Ducks?
If you want to be a teacher, I would suggest while you are training work as a Poolside assistant as it really gives you an advantage.
A few things you need before you start the Puddle training are (which Puddle Ducks helped me arrange):
DBS check
STA membership
Safety Award for Teachers
Certificate in Safe guarding children, young people and vulnerable adults.
STA L2 Award in Aquatic teaching Baby and Preschool.
After completing the above, I carried out the Baby and preschool Puddle Duck's course and some Puddle ducks e- learning.  I did my course in Bristol and met some really great people. I had Tina Byatt as my tutor - she was so encouraging, supportive and had great confidence.
After you finish I finished the course, I started co-teaching. This was a great part of training as you get to see more experienced teachers teach and they can advise you. Then comes assessment day!  I was so nervous, but my assessor Becks was so lovely and calmed me down and I passed. Yippee!
What was your first lesson like?
When it was time to teach my first class solo I was so nervous and excited all at once.
My first session went really well, and I was so lucky to have such amazing families in my lessons.  It has been such a great year seeing the progression of all the children I teach and also, I have seen my own son's progress and he is almost ready for Swim Academy.  Puddle Ducks has really changed my life and I love I get to teach children one of the most important life skills.
What is your favourite Puddle Ducks activity?
It has to be 'What's the weather like today?'
The anticipation on the children's faces waiting to be picked. Then the roar of laughter when the parents get wet from snowballs, or the complete calm when it's a sunny day, I love it!
What is your favourite Swim Academy activity?
I've only recently started my Swim Academy journey so I'm sure I will have a lot of favourites, but for now it has to be Bubble with the colour rings.  The kids really enjoy this activity and I love seeing their happy faces when we do it.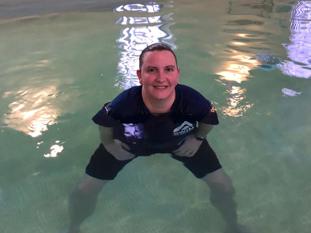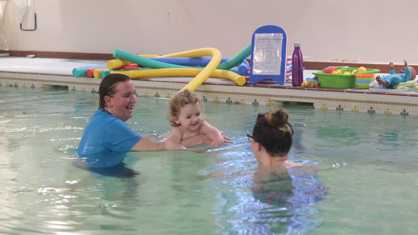 What do you get nervous about?
Getting the words of the songs wrong (there are quite a few)!!
Tell us an interesting fact about yourself!
I can speak whale! Just like Dory!
I once took a friend from the UK to South Africa on a holiday. One of the very tourist things to do is go whale watching  so off we went with a big group of people on a speed boat.  We had been out for a few hours had seen not very much, well....nothing to be honest!  Everyone was feeling a bit disappointed, so I stepped up! "Don't worry everyone," I announced. "I speak whale!" They all laughed and my English friend who was also a bit of a character said go on then do it.  So, I took a deep breath and I spoke whale  (this wasn't long after Finding Nemo had been released!). And guess what?! On my second attempt, a whale breached the surface with a great big splash.  We all burst out laughing and watched as a pod of whales jumped and swam past us.
What is your favourite thing to do outside of work?
I love to spend time with my family and friends. I also really enjoy a good book, movie or tv show.  And if I get time I really do like going on a bike ride.
What are you scared of?
This is easy - elevators! I got stuck in one as a child and because of that I am not a fan.  I can go in them when I'm with a child because then I have to be brave, so they don't learn to be scared but otherwise I avoid them at all costs!
What are your most memorable moments?
As a very young child if you asked me where I wanted to go in the world, my answer would always be the same - Rome!  For my 21st birthday my aunt bought flights for me and my mum to actually go! I cried when I got the gift, I cried when I got to the airport and I cried in Rome.  It was a dream come true.
Having the most amazing wedding definitely makes it on the list. And last but definitely not least is the birth of my very gorgeous baby boy!
Thanks Maggie!
Maggie teaches baby and pre-school classes at Whiteley Village on Thursdays, Heston Hyde Hotel on Saturdays and The Mall on Fridays.  She also teaches Swim Academy classes on Monday and Saturdays at Heston Hyde Hotel.
Contact us today to find out more about our swimming classes!

If you're unsure about what level your child should be swimming at, contact our office today and we can help find the right class for your little one!

Our baby and pre-school classes are suitable from birth to 4 years and we swim at pools in Chessington, Tooting, Southfields, Wandsworth, Hounslow, Walton on Thames and Richmond.

Our Swim Academy classes are suitable from 4 to 10 years and we swim at pools in Southfields, Hounslow and Walton on Thames.

Are you looking for a new challenge?

Job Vacancies

How about joining the team at Puddle Ducks South West London?!  No previous experience necessary! Check out our current vacancies on our website.

Learn more