We thought it would be fun to ask all of our Teachers a few questions so you can get to know them a little better. First up..... Andy!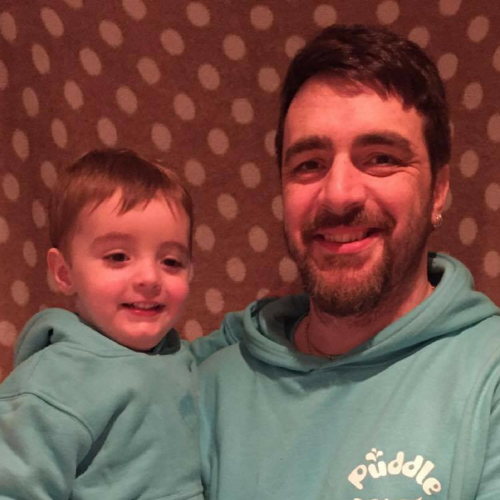 A little bit about me
I am a stay at home dad who has a background in First Aid, teaching children as a member of St John Ambulance. I am also a massive nerd. A proper nerd though, a comic book and gaming nerd back before comics and gaming were mainstream...
A few of my favourite things
Military History
Miniature War games
Doing as little as possible as often as possible.
Memorable moments in life
The birth of my son gotta be top hasn't it? My best day by far and the defining moment of my life's current path.
Back in the old days though...
Since the age of 10 I had been a member of St John Ambulance, a volunteer of the First Aid provision and teaching organisation. One of my most memorable moments with St John was crewing an ambulance on the processional route for the funeral of Diana, Princess of Wales. It was a moving day and the feelings of the crown were obvious and powerful. I have been in a lot of places and situations with St John from the middle of a riot to school fetes on summer afternoons but this one was a real 'where were you when' moment.
St John also marked my first appearance on TV. The popular show '999' was following my team about for the day at the London marathon. Being followed around by Juliette Lewis and a camera team was quite a novelty for a 19 year old and it was even better when I made it into the final broadcast. You can really only tell it was me if you are well acquainted with the back of my head and a good chunk of my left hand side but seeing myself on telly was kinda cool especially as I looked just a teensy bit heroic doing it.
In my late 20's I changed life directions completely and went from ambulance work to my early loves, comics and gaming and ultimately became a miniature Sculptor. I considered this the top for me and still in my bones consider myself a Sculptor. Yet another mile stone came the first time I was mentioned in the Wargaming Press. This was the first time I had been recognised for something I had created. Picking up a magazine and seeing my name in print alongside positive reviews of my work was a great feeling and something I would come to experience again years later upon receiving my first Teacher of the Term nominations. If you dare, and have safe search switched on, you can find my stuff by searching for Soapy's workshop. Don't ask, long story.
And of course......becoming a Puddle Ducks Teacher!
Favourite Puddle Ducks song
Sleeping Froggies - I love this one. One minute the Kickers are lying back in the water learning to float the next they are having a big splashy bounce. I especially enjoy it once the Kickers know what's coming. You can see them trying to keep nice and still and floating with their grown ups but you can see the little smiles and hear them giggling to themselves because they know what's coming. When the bouncing bit starts, they love it! It's great fun in the pool and I love the balance of teaching them an important pool skill, the floating, followed by the immediate fun pay off for their effort.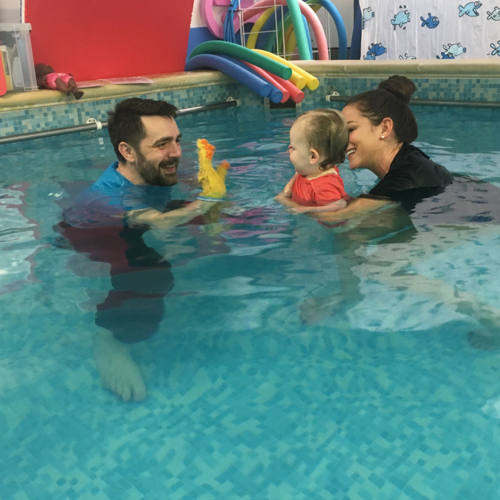 Favourite Puddle Ducks activity
'Swim Swim Little Fish' is always great fun. It's an activity that allows you to see the progress of each Splasher as the term progresses. Watching them move from a short dip of the face in the water to swimming head down and kicking back to their parents is always satisfying. One of the things that surprised me most about the activity was seeing how many Splashers start to smile as they start their swims. As soon as they hear the song so many of them are super smiley as their grown up sends them to me, and I'm often the only one who gets to see it. There are so many activities in our programmes that build independence, confidence and technique but those smiling faces and little hands reaching out to come for a swim with me make 'Swim Swim Little Fish' my favourite activity.
My journey with Puddle Ducks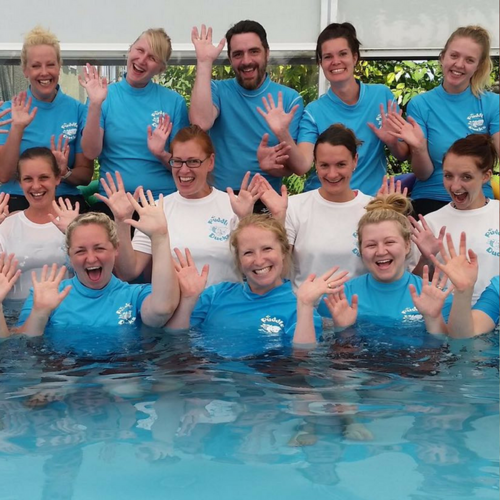 I started as a swimming dad and I saw an advertisement for a vacancy as a Poolside Assistant at the pool my son swam at, I applied and was accepted.
I applied for a teaching position the next time one was available. It had been years since I'd had to learn a new professional skill set, there's not much call for academia in the toy soldier business, but I was up for a challenge.
First of all I had to gain a recognised swim teaching qualification with the STA. Being back in the classroom was a bit of a readjustment but as soon as we got into the pool for the practical teaching it felt like home. I had a feeling I was going to enjoy this leap into the unknown. I got my qualifications and moved on to the next step, co teaching with an experienced Puddle Ducks Teacher.
I spent time in the water during lesson and gradually started actively teaching some of the activities. This is when I realised that the decade I had spent making toy soldiers since I had last taught a lesson (I used to teach first aid for 10-16 year olds) had left me very rusty. Great instruction and constant observation, support and feedback from the teaching team soon had my confidence for public speaking returning. It was now time for the final phase of my training.
I would spend a week away from home attending the Puddle Ducks training course. Here I would focus not just on teaching but the specific presentation of the Puddle Ducks programme. It was a huge amount of information to take in but so well presented and with daily pool time to learn and then refine my knowledge and techniques. Then just one more stage to go.....
Back in the pool for regular lessons and this time I was teaching under the supervision of one of our senior team members in case I needed help! Luckily I managed to pass my final assessment which, all things considered, was much less nerve wracking than I had expected it to be....which was nice!
What I love about Puddle Ducks
The kids! They're great even when they have forgotten their listening ears! I love seeing them progress through the classes and watching their skills and confidence grow! 
Andy teaches Baby and Preschool classes on Monday's and Sunday's at Strathmore @ Grey Court School and Saturday's at Riversdale Primary School. 
Meet your Teachers!

Find out who's who and where they teach.....

Learn more