Let's get to know Jannine or 'Neen' as most of you will know her - She has answered a few questions for us so we can learn more about her!
A little bit about me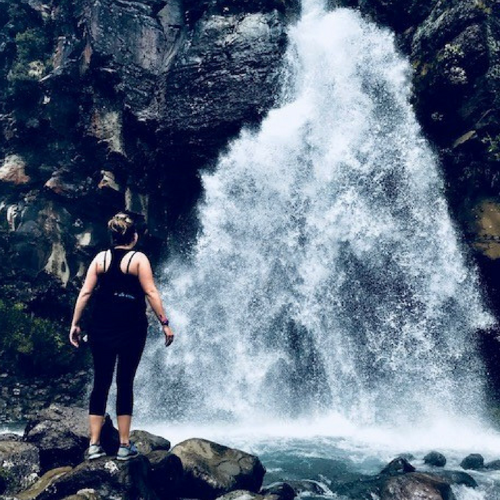 Hi all, I'm Jannine or 'Neen' as I have been known as for many years throughout my childcare background along with other names such as 'Knee' or 'Jammee' but lately Jannine or 'Neen' seem to stick. 
I have been working within childcare environments for 16 years now, first starting in a nursery, then onto training in children's sleep training and maternity nursing, through various other education environments and for the last 7 years I have been a full time Nanny, which I love. 
Recently I have found a love for travelling and when the legs start to twitch it means I need to pack the backpack and find a new country to explore. When visiting Thailand I completed the start of my PADI diving licence. It is a wonderful experience to see a whole new world from under the water, also it helps that I'm mad about Sharks. One day I would love to swim with Great White Sharks. The closest I have been so far is Blackpool Shark tank at the Sea Life Centre. It was amazing.. but not quite the Big Great White himself! 
Memorable moments in life 
Visiting the Taj Mahal India and watching the sunrise - one of the most breathtaking views I have ever seen.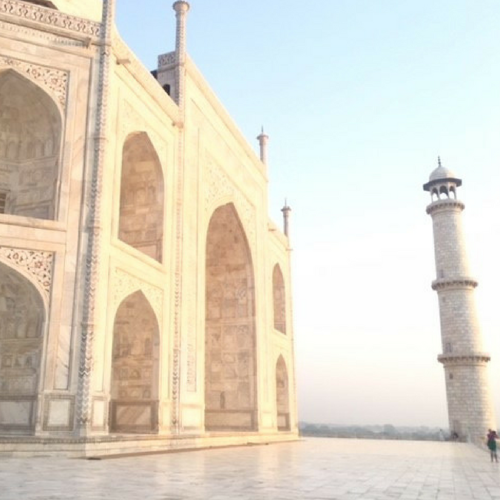 Completing the London to Brighton bike ride.
Reaching the furthest point in New Zealand North Island and watching the sea and ocean meet.
Favourite Puddle Ducks song
"Here we go round the merry go round" 
It's brilliant in many ways, firstly you may have a kicker who doesn't like the woggle and with this song by singing and moving together as a group it totally distracts them and they forget about the woggle being there.
Secondly to see all the kiddies faces when we sing this song and them all doing the actions is lovely to see. They are all so happy joining in and splashing away.
My number one song!!
Favourite Puddle Ducks activity 
Joint floating (Floaties)
By far my favourite activity!! 
This activity for me as a Swimming Teacher, and because of my background in childcare is by far the best activity for the bond between baby and parent. Every time I see this activity on my lesson plan I beam from ear to ear. To be able to witness the relaxing moment of floating on woggles, and the parent and baby laying together in the water, just watching each other is truly magical. I have seen so many smiles, and loving conversations during this activity and that for me as a Teacher is a beautiful moment to be able to share with the families you teach during their swimming journeys.
My journey with Puddle Ducks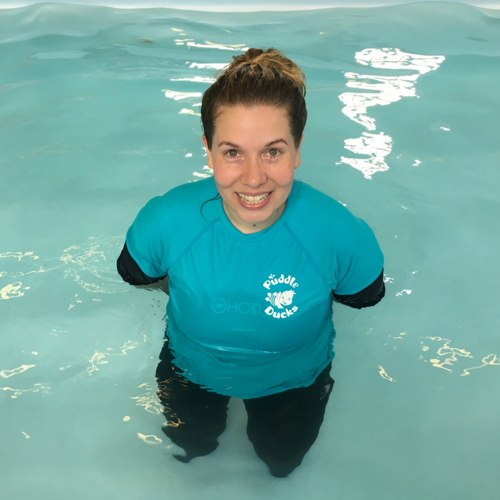 I completed my training in Manchester and met lots of new teachers who were already part of the Puddle Ducks family. They were by far the happiest people I have ever met. 
When I first started it was hard to store so much information in my head, but after time I found it was easy to catch up on evening reading and soon I began to see why the progressions are needed and how we do them. I started my Puddle Ducks journey at Riversdale Primary School and Aspire Centre and I have met so many wonderful people along the way. 
Now I am at Heston Hyde Hotel and it's been amazing to see a lot of the same little smiley faces who have been swimming with me from when we started our very first swimming lessons here at our new venue.
What I love about Puddle Ducks 
The kiddies and watching them grow in confidence in the water.
Its fantastic to see so many happy faces in the pool, and watch how one week they maybe unsure of a activity and the next week they totally love the activity. Also their Simon Cowell impressions when I sing "Little Peter Rabbit", I think I must sing it really badly, because I get lots of unsure looks.
Neen teaches Baby and Preschool classes on Saturday morning's at Heston Hyde Hotel and alternate Saturday Afternoon's at Aspire Centre.