Milo fell in the River Thames in a freak accident, he was holding a very big stick and managed to catapult himself over the safety railings into the river.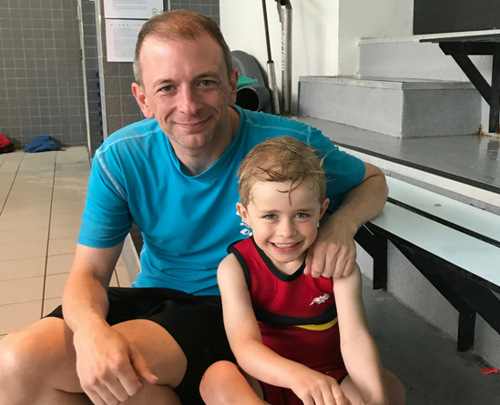 "I fell in the Thames" was the first thing Milo said to his Puddle Ducks teacher, Pete, "but I knew what to do because I've swum with my pyjamas on!"
Milo has been swimming with us at Puddle Ducks for 2.5 years and we've watched with pleasure as he's progressed with confidence through our programmes. Three times a year we hold pyjama parties in all our swimming lessons, all our swimmers from the youngest to the oldest are invited to come into the pool wearing their pyjamas to have a swimming lesson focused on all the lifesaving techniques they've been taught in their weekly class.
Incidents like Milo's are exactly the reason why we hold pyjama parties! It gives all our swimmers a regular session where the babies/children are exposed to what it might feel like to be in the water with their clothes on. We do not positively encourage our swimmers to jump into the water whenever they can fully clothed – quite the opposite – but we can provide them with the opportunity to see how it would feel to be in the water, following an accidental submersion/fall into water, showing them that they can still swim, practice turning, reach for safety and remain calm. 
Milo's nanny Chloe tells us what happened, "Milo had gone with his parents to Hampton Court and after their (long!) play in the playground they went for lunch in one of the restaurants along the river. Milo was outside with his Mummy and was enjoying carrying a big stick, it got caught in the railings and propelled him backwards into the water.
Although not a hugely deep stretch of the Thames, it's definitely enough to have been frightening! Amazingly Milo didn't panic, he really calmly turned on to his back so that he could breathe and kicked his legs to the edge where he was quickly scooped out by Mummy!"
Nicola, Milo's mum said that she was amazed at how quickly Milo reacted, and how calm and unfazed he was by the whole thing. She attributes it totally to all that he and Chloe have learnt with us here at Puddle Ducks!
When Chloe arrived at work on Monday morning the incident was the first thing Milo wanted to tell her, "He was so excited to say that he'd known exactly what to do and that it was because it was just like being in his pyjamas at swimming, although his shoes did make it a bit trickier and it was colder than the swimming pool!
Obviously none of us would ever want him to repeat the experience but we are all so proud of him, and the fact he hasn't even hesitated going back near water!"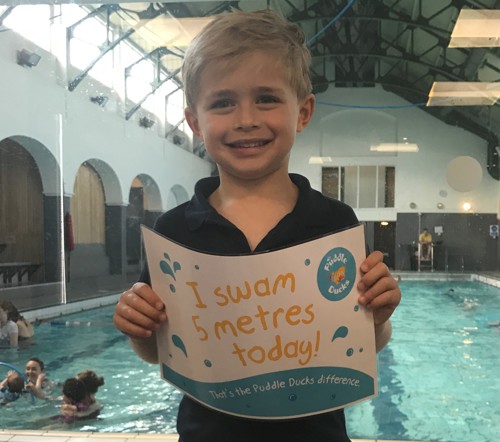 We're so proud and relieved that Milo used the lifesaving skills he has learnt in his swimming lessons in this incident. He could have panicked and got into difficulty, but instead he practiced his turning and floating in the water and got himself to safety. Well done Milo, your teachers Pete and Leonie are so proud!
Keep up the fantastic swimming, you'll have your 10 meter award in no time!
At Puddle Ducks we work the closely with the STA, the UK's leading experts in swimming teaching and water safety, and our recent Pyjama Party week coincided with the STA Learn to Swim Week 2017.

 

Below are 7 important tips to help you and your little swimmers to stay safe around water.

#1 Children will gravitate towards water.

Teach them to never enter the water without your supervision

#2 Pay attention to safety advice

Always be on the look out for warning signs and learn what the different coloured flags mean at the beach.

#3 Stay safe in the sea

Always stay in a safe depth. Never use inflatables. Beware of rip currents and if caught in one, swim parallel to the shore.

#4 Do your research

For water based activities discover the safety arrangements and whether there is lifeguard cover and ask local people for advice.

#5 When away on holiday, keep practicing

Do the activities and exercises you usually do in class to make your little one a better (and safer) swimmer.

#6 Test their safety knowledge

Use a fun game or quiz to ask your little swimmers what water safety tips they've learned in their lessons during PJ week

Learn more

We're very proud to provide a wonderful swimming journey from birth to 10 years. Our programme is designed by leading baby and child swimming experts and classes are held across South West London.

Our Pools & Classes