We received so many wonderful and thoughtful nominations for our teachers - thank you for taking the time, we really appreciate it and it has been amazing to read each and every one!
We are over the moon to announce that Sara is our Autumn 2021 Star Teacher. Sara teaches Baby and Preschool classes on a Thursday and Saturday at Sellincourt Primary School.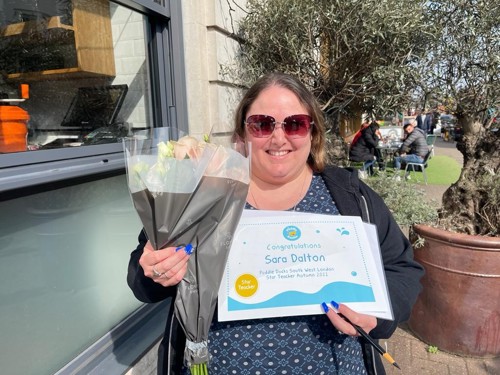 Our judge Emma-Jane from Jitterbugs received all of our nominations with all the teacher's names removed and had the tough job of picking out her favourite one. Emma-Jane chose the winning nomination because: 
"They sound very caring, patient and I loved the fact that the little girl practises in the bath between lessons". 
Here is Sara's winning nomination, sent in by Gretta and Isabelle:
"Sara is my 3-year-old daughter's swimming teacher and she is brilliant. She's engaging, fun and tailors her approach to each individual child. Our daughter was really nervous about the water, especially putting her face in the water or going under, but Sara has helped her, in only a matter of weeks, gain the confidence to do this and now our daughter is very excited about going under and she practises in the bath between lessons. Each of Sara's lessons feel different, with a combination of familiar exercises and new ones. They are playful, varied, full of songs, laughter and activity. Our daughter has a good relationship with Sara and looks forward to every lesson. As parents, we also feel guided by Sara on how to help our child and we are really glad that she is our teacher."
We absolutely love hearing that children are practising their new skills during lessons.
Well Done Sara, we are so proud of you! 
We absolutely loved reading all the nominations you sent to us so - read them all here!!
Andy

We would like to nominate Andy from Strathmore school in Ham for Star Teacher. Our 2 year old, Callum, has been going to Andy's classes since he was 6 weeks old. Following a year off from Covid we've started back and we have recently started our 5 month old, Kieran, too. Andy always explains every activity in terms that reassure the parents, set the children at ease and most importantly, explain how the activity is a building block for safety and future swimming fun!  He is excellent at spotting a fearful child and he expertly pre-empts tantrums and upset by making small tweaks which settle the children making the entire experience far more relaxing for parents and a better learning environment for the children. He knows that making swimming fun will encourage the children and set them up for future success. Andy's relatable teaching style is easily reinforced outside of the swimming environment also - 'turn-turn-turn' was crucial in preventing a new crawler from toppling down the stairs head first! When lockdown started lifting there were lots of swimming options, some that began earlier and were a bit easier to attend for us but we wanted to wait until both our boys could go to Andy's class!  Thank you, Andy, for being a great teacher!

From Caroline, Callum & Kieran

We would like to nominate Andy as our top teacher! He has been brilliant in settling Rupert into class and allows Rupert the opportunity to learn in a friendly and calm way.

From David & Rupert 

We would like to nominate Andy from Strathmore. Andy has been very instructional and patient with Chloe. He is trying to make the session as entertaining and diverse as possible. Chloe has certainly improved her swimming skills. 

From Zhening & Chloe

We would like to nominate our brilliant teacher Andy for star teacher. Our son Henry has struggled with being confident in the water since he started, and this was made even worse after the long break due to COVID. The first lesson back Henry screamed the whole time that he was in the water. Andy was very understanding and supportive. The next class Andy was super encouraging to Henry, encouraging him to splash him and giving him words of encouragement. Andy seemed to know exactly what Henry needed to get back in the saddle. These last few weeks we have seen a huge turnaround in Henry's love for swimming; he is excited to go - asks why the lessons are 'too short' and is even enjoying jumping into the pool - this is a complete turn around and utterly wonderful to see. So Andy is our star teacher!!

From Jenny, James & Henry

Andy - teacher of Little Dippers class at Strathmore @ Grey Court School. My son James was nervous after lockdown around people, but Andy has brought him out of himself in the pool and made him so confident in the water. Reassuring, fun, always engaging, full of encouragement, and with such fantastic energy. He creates the perfect learning environment. Brilliant not only with all the kids, but with the parents too. He is a star teacher and a top guy and he really deserves the recognition!

From Nick & James

I'd like to nominate Andy as star teacher. My 2 year old absolutely loves his swimming lessons, asking about Andy before class and saying, 'thank you Andy' after class in his own bumbly words. Andy has an amazing manner with the children, making swimming enjoyable whilst also being able to command attention of toddlers and focus on safety - no mean feat! Andy is clearly passionate about what he does and having had lessons when our son was 6 weeks - 6 months, we were so glad when Strathmore pool reopened post Covid lockdowns and Andy was teaching again. We had been to another set of lessons with another company / teacher and they weren't a patch on Andy's classes. Thank you Andy for everything you do.

From Claire & Henry

We would like to nominate Andy, who teaches at Strathmore School on Sundays, as Star Teacher please. Andy has been teaching our daughter to swim for a while now and she absolutely loves his classes.  He keeps the lessons really fun and engaging. Whenever we say we are going swimming anywhere, the first thing our daughter says is "with Andy?" in a hopeful voice.  She had a long break from swimming over Covid but Andy has got her back in the water and happily blowing bubbles - thank you so much Andy! He taught our older daughter as well, until she was too old for his classes, and he also now teaches our niece, so he's practically part of the family! We are really grateful for all his hard work and enthusiasm.

From Anna, Olly & Tessa

Katie

Matthew would like to nominate Katie as his star teacher. Having just moved up a class, he's been struggling with using a woggle in the way only 3 year old's can! After things didn't settle, Katie has personalised her approach to Matthew and the woggle needing activities to manage his dislike which means that he is much happier throughout the whole lesson, whilst still managing to achieve the intended goals. He adores his swimming lessons with Katie and has made amazing progress since lessons restarted after lockdown. Katie is patient and gives him such great feedback, Matthew is always keen to give 100% in his lessons. Thanks, Katie!

From Nicola & Matthew

Natasha - Baby/Preschool lessons

Kaeya would like to vote for her teacher Natasha. She makes swim lessons so much fun. She always gives personal attention to each child in the pool and motivates them all to perform to their fullest potential. She is a star! 

From Rujutu & Kaeya

My partner, Sam, and I would like to nominate Natasha for Star Teacher! Natasha is brilliant with our daughter and the other children in the class. She is always smiley, happy and inclusive and most importantly to us, is always attentive and aware of each child's moods and boundaries and changes the routines to fit. Our daughter loves it when it's time to get in the pool and Natasha is a big part of this.

My partner usually goes to classes with our daughter as I only learnt to swim as an adult and am not too confident in the water. On the occasions when I have taken my daughter to Puddleducks, Natasha has encouraged me too which means so much to me and helped increase my enjoyment of being in the water.

As the class we attend is sandwiched between two other classes, we don't get much time to say thank you to Natasha - it would be great if she won Star Teacher so we can say a massive thank you and she can see the effect she has on the children and their parents!

From Yuen, Sam & Kit

Natasha - Swim Academy lessons

We'd like to nominate Natasha for being the star swimming teacher. Since being taught by Natasha Lyra has blossomed. She has the absolute correct balance between support and challenge ensuring Lyra is always so keen to go to her lessons. Her instructions are always so clear and she is able to support any individual in the class who may need further support or challenge. I can't wait until my twins are old enough to join swim academy level 1 with her.

From Lorna & Lyra

I would like to nominate Natasha.  Natasha has helped my son, Ethan enormously since returning to swimming lessons. At first he wouldn't enter the water. She suggested to drop him back down a level temporarily to gain his confidence.  Natasha was so loving and positive in her approach, giving Ethan no choice but to get in and swim without him realising that was what she was doing. Within a month she had him confidently swimming 25 metres unassisted around the pool. As a parent watching, it is so hard to see your child distressed, but she was so reassuring for me as well as Ethan.  My daughter was also shy of people to start, but in no time at all was eager to swim with Natasha. All 3 of my children swim with Natasha and they all love her. Her positive and friendly attitude makes swimming an absolute joy.

From Clare, Ethan, Sam & Annabelle

I would like to give my 3 boys vote to Natasha as she is our 'Star Teacher'. Natasha is a very helpful calm teacher and is enthusiastic and passionate with her work.  Natasha knows how to encourage a child to achieve their goal. Our votes are going to Natasha. Mine and my three boys... Go Natasha go... Get the award....

From Nisha, Devan, Dylan & Aaron

Sara

I'd like to nominate Sara for the star teacher award. Since my son Aidan switched to her Saturday morning class (11.30am) at Sellincourt I feel he is showing so much confidence in the water and this is definitely due to Sara's teaching. Having her in the water is very interactive for the children and she is constantly encouraging and making the lesson fun for them. She is a great swimming teacher and definitely deserves some recognition.

From Clodagh & Aidan

I'd like to nominate our Puddle Ducks teacher Sara who teaches at Sellincourt Primary School for Star Teacher. She's been our Puddleducks teacher since our daughter Eloise was only 3 months old and continues to be her teacher now she is almost 9 months old.

When we started Puddleducks, it was under strict lockdown conditions, and not having the instructor in the pool to help us with our tiny baby felt quite daunting. Sara was really good at directing us verbally and using a doll to indicate what we were meant to do. It was a stressful time and she was a star at approaching all situations calmly and with kindness. Since the restrictions have eased, Sara continues to makes sure Eloise and the other babies have fun and that all of the parents and babies are safe in the water.

Sara always remembers each of the babies' names and finds ways to draw each of them in during the class. She picks up on it if a baby breathes in water and needs a minute to recover, dealing with it in a way that puts parents at ease. She helps us understand how to watch for cues in our babies that they are happy to advance or if they need more time on a particular skill. It's because of Sara's knowledge on water safety, patience with both parents and babies and playful attitude that Eloise loves the water and seeks out opportunities to play in it - and also that her dad and I feel confident in facilitating that play.

From Catie & Eloise

I am writing to nominate Sara of Puddle Ducks Sellincourt (Tooting) for the star teacher award. 
We have had the pleasure of being part of Sara's class for the last six months. Sara was brilliant at easing Evie into swimming and out of lockdown, even when Sara couldn't get in the water we always felt supported. She was very quick to assess our daughter Evie and determine she should be in splashers instead of floaties early on. Since then her class has been very engaging and, tellingly, Evie always gets excited when we get to the pool. 
Sara continuously gives feedback and ensures Evie and I/my husband are continuously developing and moving forward. We are very lucky to have Sara as our teacher and feel she thoroughly deserves the award

From Michelle, Andrew & Evie

I'm writing to nominate Sara as star teacher. She is a skilled instructor with a kind (& patient!) manner, gives clear instructions, and our boy loves his lessons with her. She is encouraging and helps clearly models the activities, making them as easy as possible!

Thank you so much Sara, your lessons are the highlight of our week.

From Emily & Dominic

We would like to nomination Sara as Star teacher as we think she is great! Her lessons are super structured; she's great with the babies; fun and has already got my 6m old swimming under water. 

From Miranda, Ian & Arlo