We recently asked you to nominate your Spring Star Teacher and we received so many wonderful and thoughtful nominations - thank you for taking the time, we really appreciate it and it has been amazing to read each and every one!
We're over the moon to announce that the winner is LOURITA! Lourita has been a qualified Puddle Ducks teacher for three months now and we're absolutely thrilled she has won our star teacher award!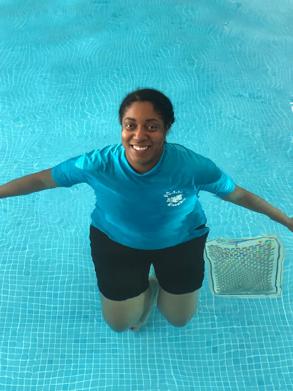 Our judge, Amanda at Willow's Forest School, received all of our nominations with all the teacher's names removed and had the tough job of picking out her favourite one.  And it was this lovely nomination from Laura and Alasdair that jumped out at Amanda:
"I would like to nominate Lourita for star teacher - she teaches my son Alasdair at Sellincourt on Fridays and she's just transformed how he feels about swimming.  He had a bad experience last summer and was really put off swimming - our first lesson he just clung to me and screamed, but Lourita has been so sweet and so patient with him, and now he can't wait to jump into the pool!"
Here's what she had to say about it:
"Hi, I am Amanda, Director of Willow's Forest School located in Surrey. I voted for Alasdair's story as I have personal experience with the same scenario and it is the most wonderful feeling when your child overcomes his/hers fears and negative experiences and connects with a teacher. This shouts volume about the teacher, their approach and an understanding of how the child is feeling, so they can work together to have fun and adopt a positive approach in the swimming pool. A big high five to mum, for pursuing with swimming and getting him to overcome his fears. It is so easy to give up at the first hurdle!"
We understand when you or your little one have had a bad experience elsewhere, it takes perseverance and hard work from your teacher and the parent together to make sure your child feels safe with us in the pool.
Lourita's nomination will now be sent to head office to be entered into the national Puddle ducks star teacher award. Good luck Lourita we're all rooting for you!
We absolutely loved reading all the nominations you sent to us so - read them all here!!
Sinead

I would like to nominate Sinead as the best teacher ever! There are not enough words to describe how great she is with children. Alice's confidence has improved incredibly in the water and there is nothing else she craves more than her Sunday Puddleducks lesson! Sinead is able to keep Alice's attention, making her try to achieve a new goal every time, and lets her have a lot of fun. She is great at keeping everyone excited as well as supporting parents doing the exercises well, always providing tailored tips and help to each of the children in the class. We truly value her and massively enjoy her classes! Thank you!

From Elisa & Alice

Andy

I'd like to nominate Andy who runs the classes at Broadwater School in Tooting. Andy is super engaging with the kids and they clearly love him. He also takes the time to explain the reasons for the different activities and the skills that are being built. 

From Simon & Evie

 

My nomination is Andy who teaches my daughter Ava on a Sunday at Grey Court School at 1pm for the following reasons: Andy is such a kind and caring teacher. He always ensures that all the children are catered for and supports both the adults and children with how to learn a variety of techniques. As a teacher myself, I'm fully aware of the preparation that goes on behind the scenes to deliver a high-quality lesson. Andy always has his resources and lesson plans to hand so that he can strive to be the best he can be. Thank you Andy for making my daughter's first experience of swimming such a positive one! She loves coming to your lessons!

From Anna & Ava

Katie

Katie is extremely kind, caring and knowledgeable about swimming for babies and young children. When our son started swimming, she was incredibly reassuring and made us and Harry feel very relaxed about his first time in a swimming pool. At every class she has a lot of energy to keep everyone engaged and happy and we adore watching our son gain his confidence in the water with her. Thank you Katie! 

From Amy & Harry

 

Katie is an excellent teacher.  Ged our 2-year-old adores her to the extent he asked if Katie could come to our house so that they can blow bubbles together 😊 He progressed massively in splashers and is really doing well in Little Dippers because Katie makes it fun but stretching for all her kids. 

From Charlie & Ged

 

We'd really like to nominate Katie for star teacher. Katie teaches my daughter Sana at the Aspire centre every Saturday at 5pm. Sana joined puddle ducks after having a tricky experience of swim classes with another swim company. She was particularly nervous of Katie (and all swim teachers) when she started puddle ducks. Katie has been absolutely fantastic at slowly engaging Sana and encouraging her to trust her. Sana really likes her and when swimming away from lessons she regularly mentions Katie and practices her swimming just for her! In lessons, Sana can still be a little nervous. Katie has been very patient with her - encouraging and challenging her while still ensuring that Sana is not too far from her comfort zone.
Katie has completely changed Sana's view of swimming. Her help has taught Sana not only that she can be confident in the water but also more generally she can overcome a big fear and be successful. We're grateful to Katie for her help and support.

From Sarah, Martin & Sana

 

I would like to nominate Katie. She has been fantastic at getting Alastair's confidence back. He came back to Puddle Ducks as a really nervous swimmer and now he is so confident and loves the water. He often complains that the swimming lessons aren't long enough! His love of the water and confidence is testament to Katie's kindness and patience.

From Samantha, Alastair & Laurence



Maggie

My daughter, my husband and I would love to nominate Maggie for the star teacher award.  My daughter is excited every week to swim with Maggie and she learns so much in each lesson, she has come a long way with the support of her amazing swim teacher.  Maggie has always made the time and effort to speak to me about my daughter's progress.  Maggie has built my daughters confidence in water as well as ours in how to manage her when in water.  The lesson plans are always energetic and fun, the best half an hour spent in the whole day.  

From Heena & Kaira


I would like to nominate Maggie as best teacher as my daughter loves her and gets very excited when she sees her. Maggie has been teaching my daughter Harnoor since she was 3 and half months old. Maggie is very calm and collective, and she always stays professional under any pressure. Harnoor and I would love to see Maggie win Best Teacher Award. Maggie you are the best!

From Reena & Harnoor

 

I just wanted to nominate both Maggie and Natasha for Star Teachers. My daughter Aariya re-joined puddle ducks after a year or so break and both Maggie and Natasha have settled her in extremely well not making her feel like the newbie in class. They are both so well spoken and put in 100% effort in every single lesson. I was a bit worried about the lessons sometimes having more than 4 children but Maggie and Natasha ensure that every child in the lesson has the same attention and the same participation in every lesson. The energy they both bring to the lessons is so lovely that Aariya continually asks me of its a Monday as she cannot wait for her swimming lessons. They are clear concise in instructions and push the children to maximise in every single way and make effective use of the full lesson. I as a parent am very happy and believe they should be recognised for the hard work they put into lessons. They also have excellent listening skills and always greet parents and children with a warm welcome. Thank you for having them as part of your team.

From Geeta & Aariya

 

I would like to nominate both Natasha and Maggie as they are amazing teachers. They both put so much time, effort and patience into teaching my son to swim.  What with Frankie being autistic his attention, focus and listening skills are not always that great and he does tend to spend quite a bit of time under the water rather than on top of it as that's so much more fun than listening to his teachers! We often joke at home that Frankie has the attention span of a goldfish and it's thanks to Natasha and Maggie's persistence and patience that my little goldfish is actually learning to swim.  I'm sure he will soon be moving up the stages. A big thank you to you both.

From Stephanie & Frankie

 

Our star teacher Nomination is Maggie. Doesn't matter the number of children in the class, Maggie seems to remember each child's nuances, peculiar likes and strengths, despite teaching a group class, she tries to give individually tailored lessons.

From Moraye & Ore

 

Zaif wants to nominate Maggie for her patience and kind manner toward him helping him to succeed. Maggie is so kind and always uses verbal cues with Zaif. She praises him and ensures he dealt with kindly and considerately.

From Zaif 

Lourita

I would like to nominate Lourita for star teacher - she teaches my son Alasdair at Sellincourt on Fridays and she's just transformed how he feels about swimming.  He had a bad experience last summer and was really put off swimming - our first lesson he just clung to me and screamed, but Lourita has been so sweet and so patient with him, and now he can't wait to jump into the pool!

From Laura & Alasdair

 

Since Lourita started taking our lessons, Juliet's confidence in the water has grown exceptionally. Her previous phobia of woggles and floats has disappeared and, if her new found enthusiasm in the pool wasn't proof enough of her enjoyment of her swimming lessons with Lourita, this is clearly reflected in the fact that she now always asks if we are going swimming when we are on the way to nursery! Thank you Lourita.

From Lourita & Juliet

Natasha

I just wanted to nominate both Maggie and Natasha for Star Teachers. My daughter Aariya re-joined puddle ducks after a year or so break and both Maggie and Natasha have settled her in extremely well not making her feel like the newbie in class. They are both so well spoken and put in 100% effort in every single lesson. I was a bit worried about the lessons sometimes having more than 4 children but Maggie and Natasha ensure that every child in the lesson has the same attention and the same participation in every lesson. The energy they both bring to the lessons is so lovely that Aariya continually asks me of its a Monday as she cannot wait for her swimming lessons. They are clear concise in instructions and push the children to maximise in every single way and make effective use of the full lesson. I as a parent am very happy and believe they should be recognised for the hard work they put into lessons. They also have excellent listening skills and always greet parents and children with a warm welcome. Thank you for having them as part of your team.

From Geeta & Aariya

 

I would like to nominate both Natasha and Maggie as they are amazing teachers. They both put so much time, effort and patience into teaching my son to swim.  What with Frankie being autistic his attention, focus and listening skills are not always that great and he does tend to spend quite a bit of time under the water rather than on top of it as that's so much more fun than listening to his teachers! We often joke at home that Frankie has the attention span of a goldfish and it's thanks to Natasha and Maggie's persistence and patience that my little goldfish is actually learning to swim.  I'm sure he will soon be moving up the stages. A big thank you to you both.

From Stephanie & Frankie

 

Maryam wants to nominate Natasha for challenging her in the pool and giving her clear instructions on how to improve her technique.

From Maryam 

 

We would like to nominate our lovely swimming teacher Natasha. She has been supporting my daughter Arianna since day one. When she was scared to even splash water onto her face and now she is doing mushrooms under water!!! All thanks to Natasha to keeping her safe and supporting her on every lesson. Natasha is very professional, a great teacher and really good with kids.

From Erika & Arianna

 

I would like to nominate Natasha as the best teacher because she is so kind and caring and she makes me smile.  She is informative and gives very clear instructions to follow. Natasha helps children thrive in swimming and the training sessions are so fun! I appreciate having Natasha as my teacher. I hope you win!

From Natalie 

 

We would like to vote Natasha from Heston Hyde hotel swim academy as our star teacher. Since Arvani has joined, Natasha has been very professional, and we have seen Arvani developing in each swimming session. Arvani has developed a love for swimming and is becoming more and more confident in each lesson. Natasha is calm and friendly, and we are grateful to her for the hard work she has put in with our daughter. Arvani is the youngest swimmer and Natasha always ensures she is happy and safe in the water. She also makes us feel at ease when Arvani is swimming.

From Sohni & Arvani

Pete

Leonardo wants Pete and Monique to be nominated as he said he loves them both! They are kind helpful also very clear in their instructions and expectations of what he needs to do. We can't be happier to nominate both of them 😊

From Leonardo 

 

We'd like to nominate Pete as he is fun, compassionate and supportive to help all children in his class improve how to swim. He mixes up the classes, whilst still doing some of the usual fun parts of the lesson. We've been so happy to see our son Ajit gain in confidence in, and also see his enjoyment of, swimming— this is in no small part thanks to Pete's wonderful teaching!

From Vinay, Devika & Ajit

Monique

Leonardo wants Pete and Monique to be nominated as he said he loves them both! They are kind helpful also very clear in their instructions and expectations of what he needs to do. We can't be happier to nominate both of them 😊

From Leonardo