We asked our newly trained Baby and Preschool teacher Andy to answer a few questions about his journey to becoming a Puddle Ducks Swimming Instructor.


Tell us a little bit about yourself
I first found out about Puddle Ducks when my wife decided she wanted our son to learn to swim from an early age. I was sceptical, but from the first time I got in the water with Jack I knew this must be the best job in the world.
Why did you choose Puddle Ducks to train as a swim instructor?
Puddle Ducks was the organisation I swam with as a parent and I couldn't imagine becoming a swimming teacher with any other company. The level of expertise and professionalism I encountered as a customer with just the kind of thing I wanted to pass on to other parents.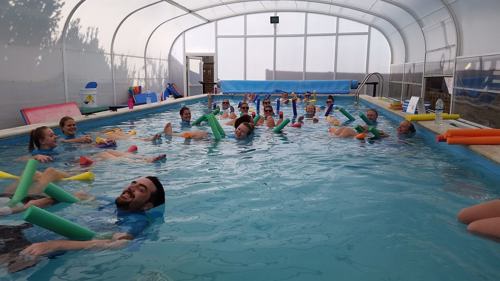 What did your teacher training consist of?
I needed to pass a life-saving course, an STA (Swimming Teacher Association) Baby and Pre-school teacher qualification, and then a Puddle Ducks course to learn how to deliver lessons to the high standards expected by Puddle Ducks customers.
What happens after the course?
I was required to pass a final assessment after my Puddle Ducks course, which would be scheduled a few weeks after the course. During that time I was in the pool co-teaching classes whilst being observed by a senior teacher. There's a minimum number of training hours needed before your assessment.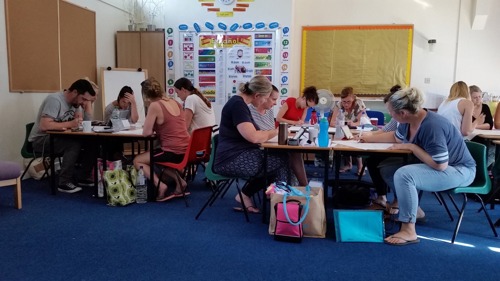 Who were your trainers?
Tina and Bex from Puddle Ducks head office, with co teaching from Pete and Leanne when I got back to our classes.
What are you most excited about when you start teaching with Puddle Ducks?
Getting my first new customers! As I'm taking over an established session as the teacher I will be inheriting the Puddle Ducks who swam with us from Pete, the previous teacher. I'm really looking forward to five years down the line when I see my first Dipper leaving the pre-school program, after having started with me as a baby in Floaties.
Great News! Andy passed his assessment with flying colours and is now teaching his own classes in Richmond. We are so pleased to have him as part of our growing team!
We're currently recruiting for new teachers, if you have a passion for baby swimming, are enthusiastic and hardworking you might be the right person to join us!