Congratulations Cameron! You are our 'Star of the Month' for April 2018.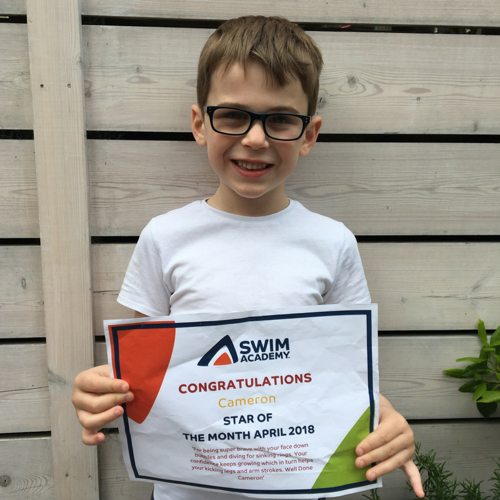 I am smiling from ear to ear as I write this post, here at Puddle Ducks we absolutely love to hear how much our swimmers are enjoying their lessons and that their confidence keeps growing and growing. 
Cameron swims with Chloe in our Swim Academy classes and this is why she chose him as her 'Star of the Month': 
'For being super brave with your face down bubbles and diving for sinking rings. Your confidence keeps growing which in turn helps your kicking legs and arm strokes. Well done Cameron'
Cameron's parents were as chuffed as we were and we loved hearing this wonderful feedback about our Teacher Chloe. 
'This has really made our day and I'm sure it will for Cameron as well! We've seen him come on leaps and bounds since starting swim academy, from being the boy that refused to put his face in the water to now confidently doing it. Thanks so much to Chloe for her amazing teaching and patience with Cameron. We can't wait to see how he progresses from here.' - Sarah and Simon. 
Keep blowing those face down bubbles Cameron - Great swimming! 
Star of the Month - March 2018

Uchechi was our 'Star of the Month' for March. Have a read and found out why her teacher Neen awarded her with her 'Star of the Month' certificate.  

Learn more