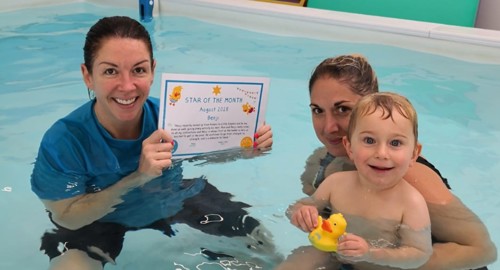 Our 'Star of the Month' for August is Benji! Well Done :-D. 
Becky chose our 'Star of the Month' this time and she chose Benji who swims in her Little Dippers class. 
Here is why Becky chose Benji:
"Benji recently moved up from Kickers to Little Dippers and he has done so well, giving every activity his best. Mum and Benji really listen to all my instructions and Benji is always first up the ladder as he's so excited to get in the pool. He continues to go from strength to strength, and is a pleasure to teach." 
Benji's mum Kate was so happy when we told her the exciting news and is so proud of him, as are we! 
Well Done Benji, keep up the great work!