Isaac is our January Star of the Month - Congratulations Isaac! 
Every part of our Star of the Month award makes us smile, we love hearing the wonderful feedback about our swimmers, telling parents the exciting news and then seeing our Stars with their certificate. We are smiling from ear to ear writing this blog :-).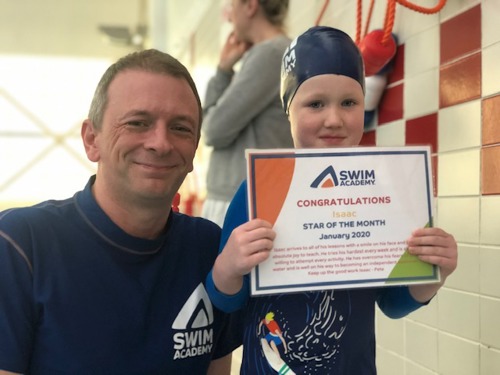 Isaac swims in our Level 1 Swim Academy classes with Pete and Isaac's parents were so excited to hear that he has been chosen as our January Star of the Month. 
'Isaac arrives to all of this lessons with a smile on his face and is an absolute joy to teach. He tries his hardest every week and is always willing to attempt every activity. He has overcome his fears of the water and is well on his way to becoming an independent swimmer. Keep up the good work Isaac.'
What wonderful feedback! Well done Isaac, Pete and the whole team are so proud of you.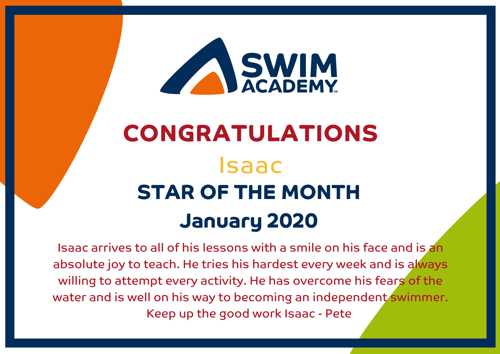 Level 1 - Swim Academy Lessons 
Our 'beginners' level, Level 1 is often the first time that children enter the pool without their parent and our whole focus is on water confidence, basic water safety and the foundation skills for independent swimming. The ratios are small to enable a rapport to build between the teacher and children - and it quickly does.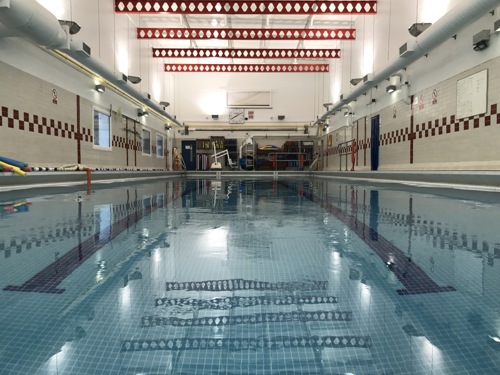 We teach our Swim Academy lessons on Saturday and Sunday afternoons at Aspire centre. For more information about our classes, please contact our office who are more than happy to answer any questions you might have.