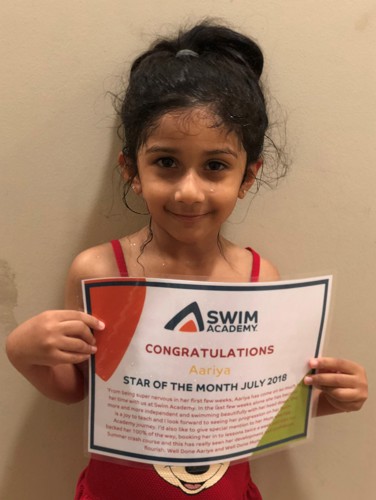 Congratulations to Aariya who is our Star of the Month for July 2018. 
It was Pete's turn this month to choose a Swim Academy Star of the Month and when we told Aariya's mum that she has been chosen she was beyond pleased. 
'What a lovely surprise! I am so so happy and proud of Aariya and cannot thank you enough for the fantastic lessons! I am really really happy. Thank you so much!' - Aariya's mum. 
Here is why Pete chose Aariya as his Star of the Month: 
'From being super nervous in her first few weeks, Aariya has come on so much in her time with us at Swim Academy. In the last few weeks alone she has become more and more independent and swimming beautifully with her head down. She is a joy to teach and I look forward to seeing her progression on her Swim Academy journey. I'd also like to give special mention to her Mum who has backed her 100% of the way, booking her in to lessons twice a week and also our Summer crash course and this has really seen her development and confidence flourish. Well Done Aariya and Well Done Mum.'
Congratulations Aariya, it has been lovely to see your confidence grow.