We are so excited to announce that our Star of the Month for July is....
Avani from Heston Hyde Hotel!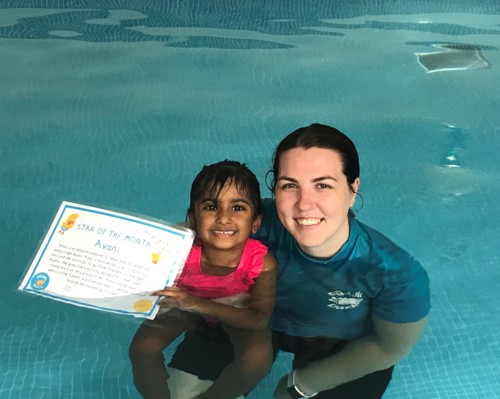 Sinead chose our Star of the Month for July from her Baby/Preschool customers and we are so pleased to announce that she chose Avani. Congratulations, Sinead and the whole Puddle Ducks team are so proud of you. 
Avani swims in Little Dippers and here is why Sinead chose her as her star swimmer: 
'Avani is an absolute pleasure to teach and she works hard in every single lesson. Avani's confidence is growing on a weekly basis and she continues to go from strength to strength in her lessons. She gives every activity her best try, even when she is unsure and I am very proud of her. Avani has progressed so well in Little Dippers and I am excited to see her continue through her swimming journey.'
Avani's parent's were so happy to hear that she had won and are really pleased with how Avani is progressing in the water. Keep up the good work Avani!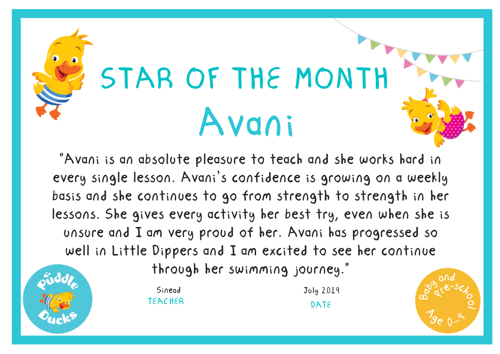 We teach our Little Dippers classes at Heston Hyde Hotel on Thursday's and Saturday's. 
Little Dippers is full of new skills to learn; back swimming, exhaling in the water, independently pushing from the wall, head down and swimming to adult, reaching under water for a sinking ring...the list goes on! Children are still supported in every way they need, physically and emotionally (a parent or guardian is in the water with them), and only moved forward at their own pace and when they tell us they are ready. 
For more information about our classes, please contact our office who are more than happy to answer any questions you might have.