It's March, which means we have a new 'Star of the Month' - YAY!! 
Kirsten chose our Star this month from her Baby Preschool classes and we are very excited to announce that she chose Ava. 
Well done Ava. 
Ava swims in one of our Kickers classes at Broadwater Primary School. 
Ava's parents were so excited to hear that Ava had been chosen as Star of the Month.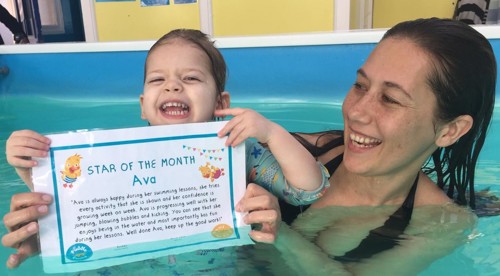 'Ava is always happy during her swimming lesson, she tries every activity that she is shown and her confidence is growing week on week. Ava is progressing well with her jumping, blowing bubbles and kicking. You can see that she enjoys being in the water and most importantly has fun during her lessons. Well done Ava, keep up the good work!!'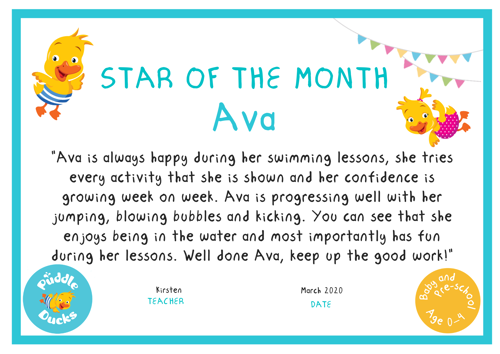 We teach Kickers classes on Tuesday's, Friday's, Saturday's and Sunday's at Broadwater Primary School.  
Whilst in our Kickers class, the children's communication skills come into their own. Language and responding to key words, counting and listening all play a part in this level of the programme. We use two short woggles to help them move around without adult support. Many of the Learning Outcomes for this programme are directly linked to personal survival and this is a key element of the programme, including partaking in our PJ week, three times a year, where the children learn how it feels to be in the water with clothes on. They can stay in our Kickers programme until they are 30 months and this length of time is just what some children need to gain and even regain their confidence as this stage can prove emotionally difficult for some toddlers. Our teachers are specially trained to make sure activities are adapted to each and every child and the focus is on encouragement and empowerment, never forcing and never undermining. For those children who have consistently shown aptitude and confidence in the water, we progress them to our Little Dippers class from as early as 24 months. 
For more information about our classes, please contact our office who are more than happy to answer any questions you might have.