We are pleased to announce our May STAR of the month is....
Advika from Heston Hyde Hotel!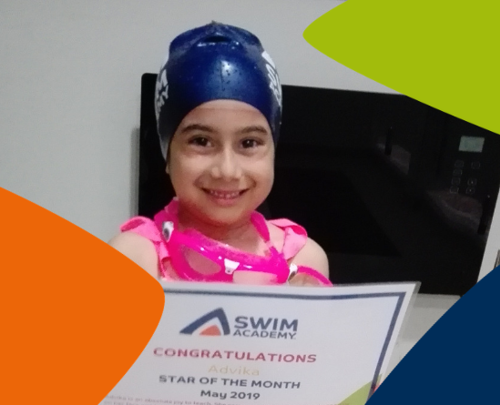 Our teacher Sinead chose our Star of the Month for May from her Swim Academy customers and we are very pleased to announce that she has chosen Advika. Congratulations from all of the Puddle Ducks team!
Advika swims in one of Sinead's Level 1 classes and is about to move to Level 2. 
Here is why Sinead chose Advika: 
"Advika is an absolute joy to teach. She comes to every lesson with a huge smile on her face and happily participates every week. She tries her hardest with all of our activities and is always working to be as independent as possible. Advika's confidence has grown so much over her time in Level 1 and I am looking forward to seeing how she grows in Level 2. Well Done Advika, we are so proud of you."
Keep up the good work Advika!
We teach our Swim Academy classes at Heston Hyde Hotel every Monday and Thursday afternoon. 
Swim Academy teaches children up to the age of 10 to swim beautifully and efficiently, as well as developing essential water safety and lifesaving skills.
Children learn through experience, fun and some repetition. Practice makes perfect. Swim Academy classes are fun, lively, varied and exciting to help your child stay engaged and challenged in the water.