We are so proud of Kaeson-Charles! Maggie has chosen him as her Star of the Month for November. 
Kaeson-Charles is one of our Little Dippers and he swims at Whiteley Village.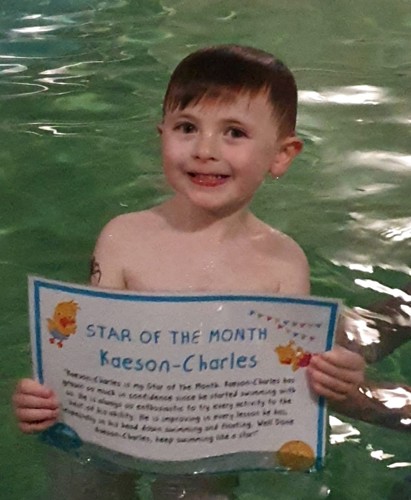 We were smiling ear to ear while reading why Maggie chose Kaeson-Charles as her Star of the Month: 
"Kaeson-Charles is my Star of the Month. Kaeson-Charles has grown so much in confidence since he started swimming with us. He is always so enthusiastic to try every activity to the best of his ability. He is improving in every lesson he has, especially in his head down swimming and floating. Well Done Kaeson-Charles, keep swimming like a star!"
Kaeson-Charles' Mum was so pleased to hear that he was Star of the Month and she said that it made her week!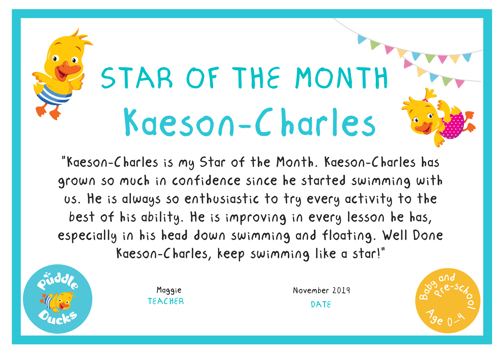 We teach our Little Dippers classes at Whiteley Village on Thursday afternoons. 
Little Dippers is the last level where children can enter directly. We take children between 30 months old and four years old and no previous swimming experience is necessary. Because of the way our teachers are trained to support children of all abilities, in Little Dippers we can accommodate those who are new to swimming as well as those who have worked their way through the Puddle Ducks programme. Little Dippers is the first level where we introduce criteria, visible in your online account, where you can see what your little one is excelling at and where they might need some additional support.
Little Dippers is full of new skills to learn; back swimming, exhaling in the water, independently pushing from the wall, head down and swimming to adult, reaching under water for a sinking ring…the list goes on! Children are still supported in every way they need, physically and emotionally (a parent or guardian is in the water with them), and only moved forward at their own pace and when they tell us they are ready. 
For more information about our classes, please contact our office who are more than happy to answer any questions you might have.