Congratulations Hope - You are our Star of the Month for October and we are so pleased for you!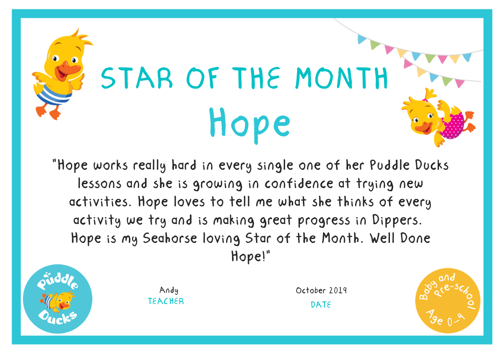 Andy chose our Star of the Month for October from his Baby/Preschool customers and we are so pleased to announce that he chose Hope. Congratulations, Andy and the whole Puddle Ducks team are so proud of you. 
Hope swims in Dippers and here is why Andy chose her as his star swimmer: 
"Hope works really hard in every single one of her Puddle Ducks lessons and she is growing in confidence at trying new activities. Hope loves to tell me what she thinks of every activity we try and is making great progress in Dippers. Hope is my Seahorse loving Star of the Month. Well Done Hope!"
Hope and her Mum were so happy to hear that she had won and are really pleased with how Hope is progressing in the water. Keep up the good work Hope! 
Hope was so excited to have her photo taken with her certificate and of course she chose to sit on her seahorse in the picture :-).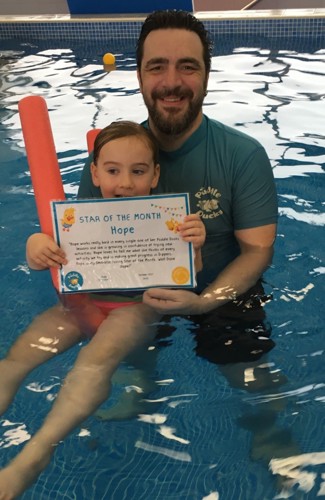 We teach our Dippers classes at Strathmore @ Grey Court School on Monday and Sunday's. 
Exclusively for those progressing through Little Dippers, our Dippers classes are all about preparing our little swimmers for the day they go into the water without their adult, either in our Swim Academy or with primary school or another provider. The beauty of our programme is its adaptability; we can see a three year old with no swimming experience entering our Little Dippers programme and another three year old in Dabblers, achieving their 10m badge, and everything in between! In these levels, our focus is on helping children realise their swimming potential, whilst teaching personal survival skills to them. Our Dippers are fun-loving, strong-swimming, ever-ready little superstars – just stand back when they jump in or you're getting soaked!
For more information about our classes, please contact our office who are more than happy to answer any questions you might have.