In June we asked our customers if they felt their teacher deserved the Puddle Ducks South West London Star Teacher Award - Summer 2019, and so many of you responded YES!
We've shared all the nominations below, including the winner which has been passed onto Puddle Ducks HQ to be entered into the national final! A heart felt thank you to everybody who nominated their teacher. Over to our judge, Kirsty;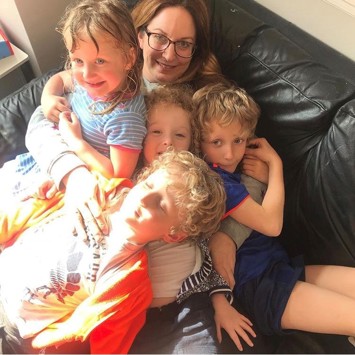 I am Kirsty from Navigating Baby and I write about raising my 4 crackers littles.  I have two singleton boys and then after going for number 3 I was shocked blessed to have very lively twin girls.  My children can be found tearing around my house playing ninjas, loving one another or driving one other crazy. I can be found alternating between drinking coffee, pleading for order and writing about the chaos at www.navigatingbaby.com. Before the craziness of the twins I could also be found teaching swimming for Puddle Ducks and I am still hugely passionate about the importance of teaching children to swim.  So I was thrilled to be asked to judge the Puddle Ducks South West London Star Teacher Award.
There were some fabulous entries and it was a tough choice. I have chosen this nomination because they are talking about how the teacher takes the time to explain not to the children, but to the adults.  I think this is so important. Not all parent/carers are strong swimmers themselves and can be nervous especially with young babies.  These nerves and fears can rub off on the children and create a lack of confidence so as a teacher I think a big part of our role is to make sure that the parents and carers understand why we are doing the exercises and are supported when they feel nervous.
Our Star Teacher is...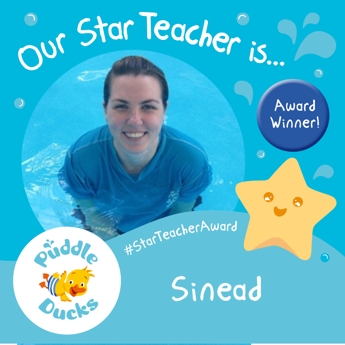 Sinead! With this wonderful nomination from Michelle & Flynn;
I would like to nominate Sinead as star teacher for summer 2019. Swim classes with my 2 year old is one the main highlights of the week for me. Sinead plays such an important role in this. She is an excellent teacher who always takes the trouble to explain the background behind why we are doing things. She provides gentle words of encouragement during the class for both the carer and child. She is excellent with the children and they all gravitate towards her. She is fantastic and definitely deserves this award!
Sinead

Sinead is my fave, the steps in learning she paves

I never get bored, there's more to learn in store

Believe it or not, her swimming techniques never stop

Sinead always smiles, she taught me to push my feet against the tiles

Sinead is the best, the others are the rest

I feel the challenge I am swimming at last!

Written by Maryam, age 6 (Swim Academy)

 

Sinead is always very calm and cheerful with the kids, she is very professional and flexible. She understands each child has their own pace and needs, and does not ever force them to do the activities. Although she does encourage them really well and my son likes her very much.

From Aldine & Rafael

 

Sinead is a fantastic teacher, she is calm, friendly, professional and makes lessons so much fun. Since starting our lessons at Sellincourt she has encouraged my son to take part in all the aspects of the lesson, expertly bridging the gap between encouraging but not pushing. So much so that a child who was not confident at all in the water is making significant progress, growing with confidence, learning skills and having so much fun!!

From Colette & Blake

 

Kaeya and her Dad would like to vote for Sinead. She really knows her students and gives them personalised attention.

From Rujuta & Kaeya

 

I have noticed that Sinead is really developing Avinash's skills even when the other two children in Avinash's class are not at the same level. She pushes Avinash and has been trying to work him so that he can be moved up a level, to which we know he will soon be ready. She has constantly seen where he may be lacking and understands what needs to be done to help him improve. She also pushes him to try and build on the confidence and strength needed to move up to level 2. Thank you Sinead!

From Avneet & Avinash (Swim Academy)

Andy

Great with our girls- they are both very fond of him. He structures the class to individual needs. Very supportive and encouraging.

From The Dodds

 

Andy makes the lessons so much fun and instils a huge amount of confidence in the children by being so calm and relaxed at all times. Both children absolutely love their lessons and that is largely down to Andy in my view.

From Neill, Isla & Eve

 

We're nominating Andy as the best teacher. He is engaging, easy going, lovely with the kids, fun, and friendly.

From Aurelia & Julius

 

Andy is always enthusiastic, patient and gives each child the individual attention they need to build confidence in the water. Thank you!

From Poonam & Dheeya

 

Andy is super patient with our rowdy class and is always conscious of each child's individual needs. Ethan is a little more confident and tailors certain exercises for him to allow him to still progress while Emilia needs a little more confidence and Andy is always there to help her and encourage her when she finds things a little daunting. He is very caring but also maintains control in the pool when the children (and grown ups) don't always listen or do the exercise correctly!! Thanks Andy!!

From Shelley, Dan & Ethan & Emilia

 

Andy is great with our son Henry, knowing his individual progress and providing a supportive environment for him. Lessons with Andy are great fun for all of us, he is a natural communicator and teacher.

From James, Jenny & Henry

 

We'd like to nominate Andy for a knighthood (but your award will do in the meantime) for handling our daughter Layli magnificently during her lessons! She's very risk averse and can be a little whiney, but Andy manages to get the best out of her at each lesson. Thank you!

From Sam, Layli & Aryana

 

Can we vote for Andy at Strathmore please. He has a lovely way of interacting with the babies and parents. Our Elliot loves him!

From Sue & Elliot

Maggie

Maggie is a sensational teacher, my boy can be quite lively and she really knows how to talk to him. His swimming is coming along brilliantly.

From Maria & Thomas

 

Myself, son and daughter would love to nominate Maggie for this award! I commend her enough for how well she teaches her lessons and how at ease she makes both of my children feel and welcoming and warm she is!

From Danielle, Hartleigh-Moon & Kaeson-Charles

 

Maggie has made Sean's lessons fun but is always developing him, she does it in a way that is flexible and encouraging and has kept his interest and engagement.  He has become very confident in water since joining her lessons. She adapts the class to meet the needs of the children on the day. Thank you!

From Marie & Sean

 

Maggie - Constantly enthusiastic and engaging, able to bring along the grumpiest toddler to enjoy swimming. Lessons are a complete joy and my husband and I argue to be the one in the water. And so enthusiastic a singer that I have caught myself singing about wiggly woo in client meetings :))

From Louise & Laranya

 

Maggie remembers all the children's names, She commands attention admirably, She is authoritative where necessary, She makes lessons fun & Isla is always excited for swimming!

From Ronak & Isla

 

My son is in Maggie's class and has been having a difficult time in the water - not wanting to be in the water, crying no matter who he was with (me or dad) Maggie went out of her way to help us and Arlo through this time with suggestions, and helpful advice. She makes an extra effort to talk to him and reassure him that everything is ok. Arlo is much better and I know it is because of her, so thank you Maggie.

From Kirstie & Arlo

 

Maggie has been amazing at helping my daughter build confidence in the water. She can be quite reluctant at attempting new things but Maggie's patience and support at making sure that she goes at her own pace has been a great comfort to her. We can really see how much of an improvement she's made over the last year and she's always excited for her Saturday morning swim as the report Maggie has built with our shy daughter has been amazing. We can see that from how she doesn't bat an eyelid now when Maggie picks her to help with demonstrating a technique!

From Meera & Sophia

 

Maggie is really good and patient. My daughter was crying in her first class and she patiently helped us through the lesson. In the next class when Anaisha was waiting for her swim time, Maggie made the effort to come and be friends with her and make Anaisha feel comfortable which was so positive and baby was a mermaid in the pool in that class and all classes after that. Big shout for Maggie. Fabulous!

From Smriti & Anaisha

 

Maggie's affection for her students is ever present in her lessons and the kids enjoy every improvement they make each week.

From The Adesina Family

Katie

Katie at Aspire and Sellincourt is amazing! She has been so patient with our little one who can't wait to go swimming now - drags me to the car and gives me the swim nappy!  

From Lindi & Hailey

 

Would love to nominate Katie at the Aspire centre for the teacher award, she does our Splashers class and she is absolutely brilliant. She interacts so naturally with our flirty boy who loves the water, but it's really amazing watching her innate talent for calming parents and babies who are unsettled and unsure - she is full of positive energy and always full of smiles.

From Charlie & Aidan

 

Katie has been so patient and supportive with our son Alfie, who is going through a few challenges in the pool at the minute. He has become scared to go underwater and also seems to have a real aversion to monkey walking! Katie has been patient, kind and supportive and is working slowly with Alfie and I to help rebuild his confidence. Thank you, Katie!!!

From Paul & Alfie

 

Katie is our favourite Puddle Ducks teacher. She makes the lessons enjoyable, fun and she spends time every week investing greatly in each pupil and their progress.

From Sinead & Alisdair

 

Katie teaches to my daughter every Saturday morning at Sellincourt primary school and she is adorable. She is very empathetic with the children and Alice has been developing her "swimming" skills massively in the recent months. She is confident and sweet and very helpful to properly explain to grown-ups every new "exercise". Our daughter loves Puddle Ducks and so do we! Thanks Katie and the team!

From Elisa & Alice

 

Katie is a wonderful teacher. Summer has really enjoyed her swimming lessons and made great progress as a result of such excellent teaching. Katie is always patient, explaining each task well so her students feel well prepped before making their moves!! Good luck Katie!

From Savita, Shaun & Summer

 

Scott would like to nominate Katie as his star teacher. "Katie makes me laugh and sings ring a ring a Rosie's and lets me dive under!"

From Scott & Maggie

 

Katie always manages to get a big smile out of Evan, even when he's a bit grumpy, and we're both going to miss her.

From Matt & Evan

 

Katie is not just a Star Teacher but a Super Star Teacher!  Under her expert guidance Finn has moved from Kickers, through Little Dippers into Dippers in no time at all, as Katie has challenged and stretched him to achieve all manner of jumping and underwater turning and swimming.  And he's still not yet 3!  His Puddle Ducks session is quite literally his favourite half hour of the week and Katie is a significant reason why that is the case!

From Sarah & Finn

Pete

The best teacher is Mr Peter. He gives excellent instructions and also gives the child confidence.

From Adrian & Leonardo (Swim Academy)

 

Pete was able to remember Ivy's name, even though he'd only taught her a maximum of two times before in the two years we've been swimming with Puddle Ducks. He has an instant rapport with the kids, and you can see they are immediately confident with him, despite not knowing him. His lessons are full of energy and lots of fun!

From Fiona & Ivy

 

I feel that Pete always pushes Avinash to do better. He knows the potential each child has and makes them work hard to build their confidence. He has listened when I've said Avinash is independently swimming a certain distance and pushed him- all of which we appreciate. Thank you Pete!

From Avneet & Avinash (Swim Academy)

Thank you for your wonderful feedback, we love teaching every single one of you!

We're very proud to provide a wonderful swimming journey from birth to 10 years. Our programme is designed by leading baby and child swimming experts and are held at pools across South West London including pools in Tooting, Hounslow, Wandsworth, Southfields, Walton-on-Thames and Richmond upon Thames.