We invited customers to enter their teacher into the national Puddle Ducks 'Teacher of the Term' competition, and the feedback we've received is fantastic! Thank you so much to our lovely customers who nominated their teacher, it means so much to them and to the whole Puddle Ducks team!
Racheal, co founder of Ickle Pickles was our independent judge, and she had this to say about why she chose Leonie's nomination from Gareth and Isabella-
"I have selected this nomination because it perfectly describes the rapport that the teacher has with the child and how she has built up her confidence. The child clearly enjoys swimming as a result and is keen to impress her teacher!"
Well done Leonie, reading this makes us very proud! This nomination will now be sent to Puddle Ducks HQ to go through to the *next round* where a national Teacher of the Term will be crowned.
Thanks again Gareth and Isabella.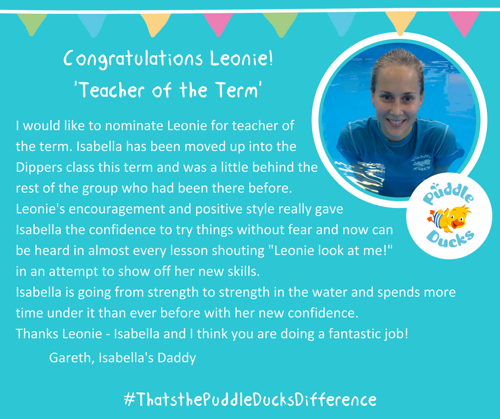 Thanks so much to Jo and Lucy for nominating Leanne. Only five lessons in and Jo can already see Lucy improve in each class, and even better it's the highlight of their week!
Well done Leanne, we're proud of you!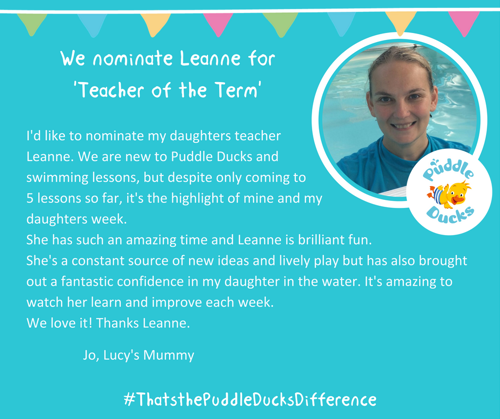 It's wonderful to hear you appreciate all the hard work Leonie and all our teachers put into their lessons, right from the first time you enter the pool, to carefully explaining the reason for each activity.
Thank you to Robyn's Mummy Olivia, and yes we agree, Marian is also a Star!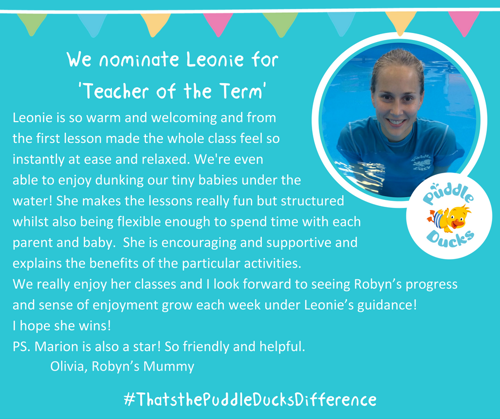 Thank you Sophie and Annabelle, your feedback means so much to us.
We agree, Leanne is an absolute credit to Puddle Ducks!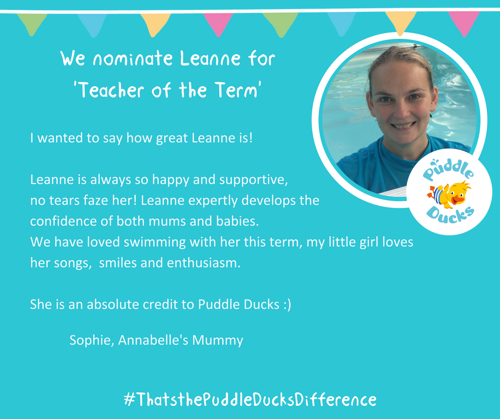 Thank you Magnus for asking Mummy to send this nomination for Leonie, we think she's the bees knees too! It's wonderful to hear the connection between Magnus and Leonie!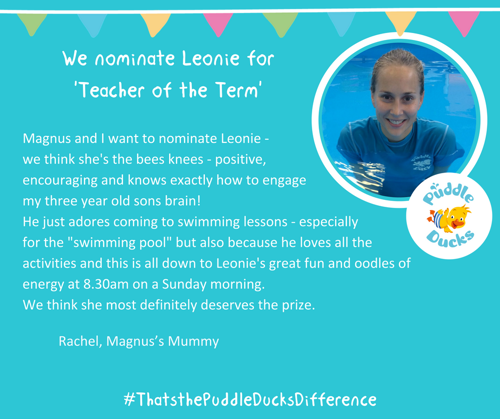 Responding to the individual child's needs is something we pride ourselves on, and it's wonderful to hear Leonie is doing it so well. Thank you to Sebastian and Olivia's Daddy for sending this, it means so much to us to receive your good feedback.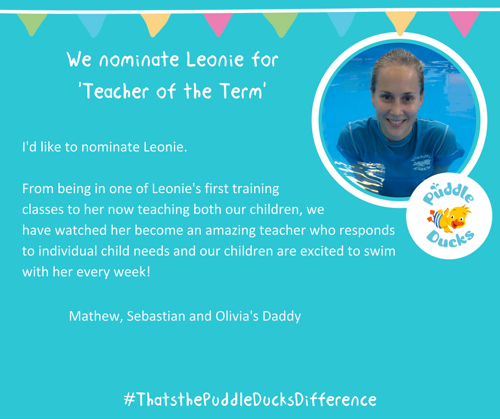 Wow, amazing feedback!
If you would like to sample Leonie's oodles of energy, or Leanne's smiles and enthusiasm you can book into a baby, todler or pre-school swimming class in Richmond, Tooting or Balham here.