We asked our wonderful customers if they felt their teacher went out of their way to make their lessons extra special, if they supported them through a tough time in the water, and the anwser was YES!
Thank you so much to everyone who nominated their teacher, we received a record number of emails and every single one made us so proud! 
Our judge Mums Of Wandsworth said-
It was a VERY difficult decision and there were some really lovely nominations but we had to pick a winner so we chose this one.
It sounds like this teacher is an excellent all rounder, helping children who are scared to become excited, helping parents by being reassuring and also bringing fun and variety to the class to make sure everyone is enjoying it fully.
Congratulations Leonie! Thank you so much to Hannah and Alexa, saying your Puddle Ducks class is the highlight of your week fills us with delight! This nomination is now entered into the national competition at Duck HQ.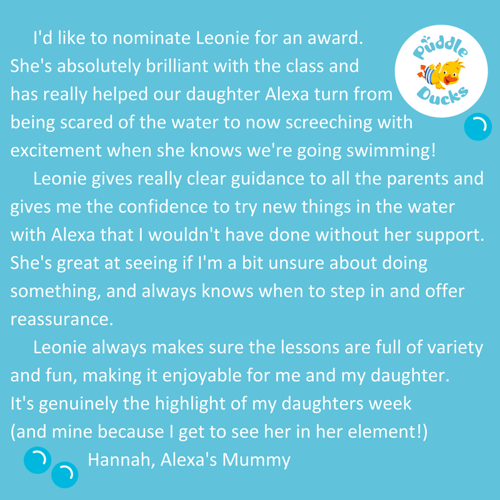 The second nomination for Leonie from Yvonne and Sonny, Sonny has made such amazing progress in the pool, it's great to see!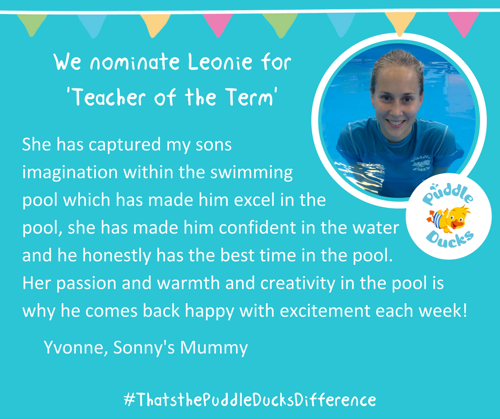 Thank you to Vicky and Ziva for nominating Andy. It's wonderful to hear Ziva has gained so much confidence, and has a great connection with her teacher.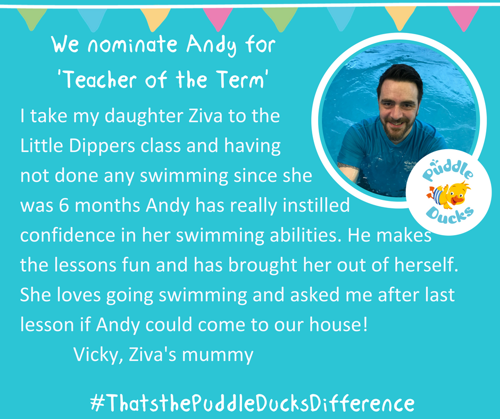 Thank you to Freddie's mummy Nicki for this lovely nomination for Leanne. It's great to have such good feedback from a longstanding customer. This is a great example of how Leanne (and all our teachers) adapt activities to suit the individual child, so they can learn at their own unique pace.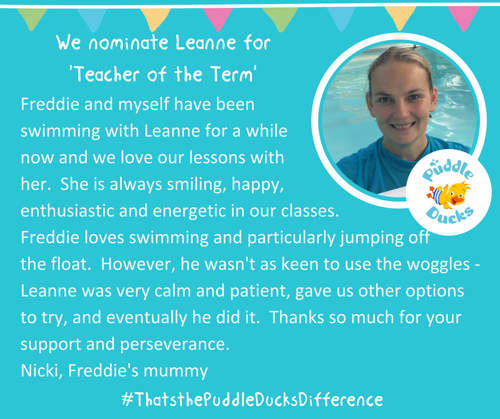 Another lovely nomination for Leanne, thank you to Camilla, Thomas and William! Children often start off nervous in the water, or go through a nervous stage, we're here to support you every step of the way.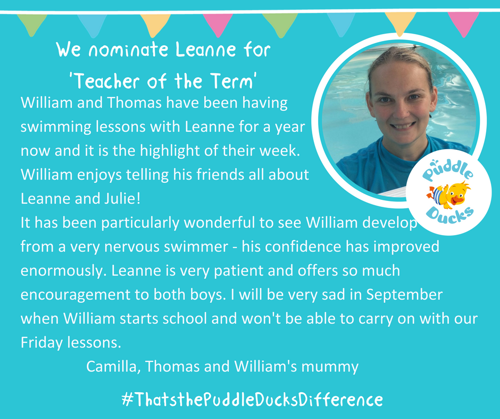 Water safety is the #1 reason parents believe baby swimming lessons are so important, so it's wonderful to receive this nomination for Andy. Thank you Victoria, Lochlan and Aidan for the wonderful feedback.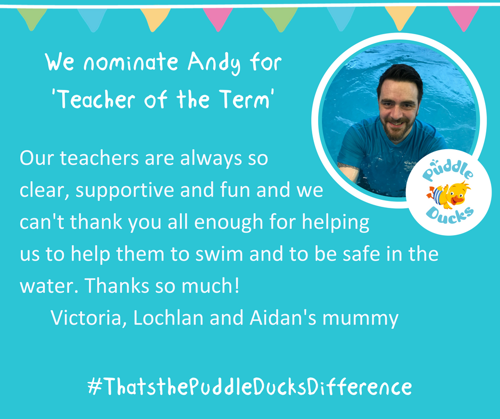 Thank you to Carita and Margot for this lovely nomination for Leonie. Floaties is such a special class, and it's astonishing how relaxing it can be for both mummy and baby, so pleased Leonie is taking expert care of you all. Enjoy Splashers!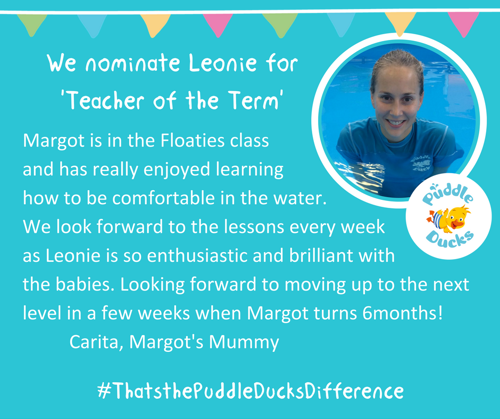 Thank you to Irene and Elisabetta for nominating Leanne, we're so glad you enjoy your classes!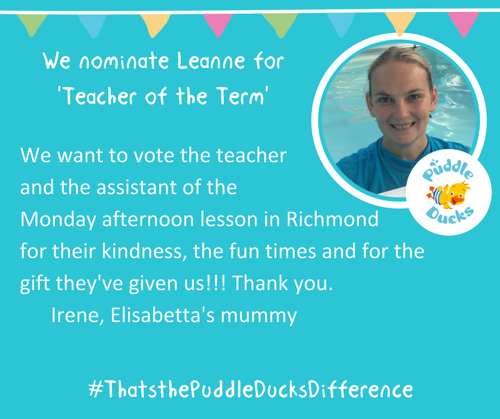 Thank you so much to Miah and Lila for nominating Leonie, we adapt activities to suit the progression of the individual child, great work Leonie!
Thank you Simone and Thea for this nomination for Leanne, and thank you to Leanne for all your hard work!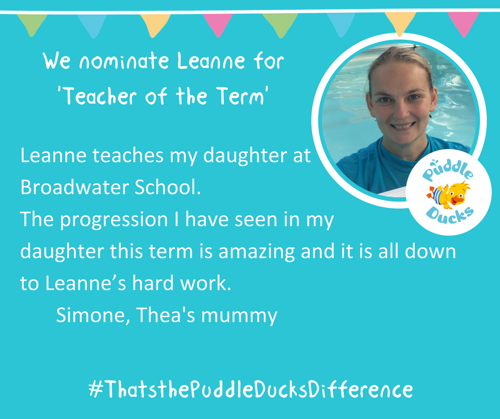 Wow, thank you Mel, Tom, Alexander and Lara, what amazing feedback for Leonie! This just about sums up what we strive to achieve. We are so glad you feel this way!
Thank you Doreen and Otto for nominating Leonie, we're so glad you feel you're getting the most out of every lesson and your exercises are adapted to suit the individual baby.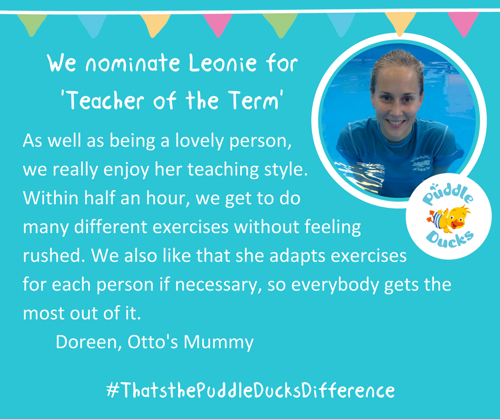 That's all our Teacher of the Term nominations, we received a record number of nominations which made us very, very, VERY proud to read them all!
Our local winner Leonie went through to the 'National Final'!!, we didn't win this time, the lovely Sarah Bell from Puddle Ducks Chester and Wirral did, her nomination's here.
We just want to say a huge THANK YOU to all our lovely customers, for making us smile and giving us the best job in the world!
Leonie, Leanne and Andy teach across Tooting, Balham, Southfields, Richmond and Hounslow every day of the week, see our Pools and Classes.