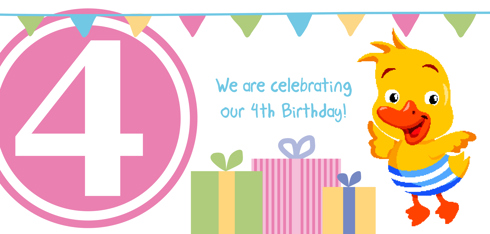 It was our fourth birthday last week and what an awesome week it was! We were busy reading through all the wonderful Teacher of the Term nominations, preparing to start teaching in our two new pools both in Southfields, and supporting our wonderful new teacher Jannine who has started the first part of her training to become a Puddle Ducks teacher.
Leonie has been crowned our Teacher of the Term for the second term running! We received fifthteen nominations for our teachers which is the most we've ever received, it's amazing to read the fantastic feedback from both new customers and those who have been with us for years. A huge heartfelt thank you to everyone who nominated their teacher, it means the world to us, and a huge thank you to Mums of Wandsworth who selected our winner to go through to the national Puddle Ducks final!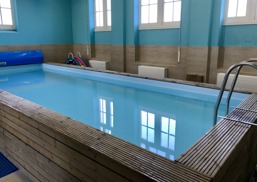 The first of our new pools is Riversdale Primary School in Southfields where we'll be teaching every Saturday and Sunday morning, classes start after the Easter break. It's a wonderful clean modern facility and the water is a toasty 32°. We'll be teaching small classes of a maximum of six parent/child pairs pairs. We'll be teaching Floaties, Splashers, Kickers and Little Dippers classes, so that's suitable for little ones from birth to four years old.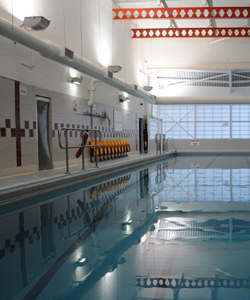 The second of our new pools is the Aspire Centre also in Southfields. Lessons will take place on Saturday and Sunday afternoons, starting in May. It's a fantastic pool, a large 25 meters and a deeper depth so perfect for our little customers who are perfecting their independent swims, often swimming 5 meters and more all before they reach school age! Don't worry if you're not overly confident in the water yourself, all classes are in standing depth so suitable for parents who are not strong swimmers.
At the Aspire Centre classes will be every other week, rather than weekly, so perfect for families that struggle to commit to swimming lessons every weekend. Obviously your child won't progress quite so quickly as they would if they had a lesson every week, but we should see good progression.
Our new teacher Jannine will be teaching on Saturdays at Riversdale school and the Aspire Centre, we're thrilled to have her on on the team and you may well see her in you're pool soon!
Finally, and the most important thing to say is thank you to our wonderful customers, some of you have been swimming with us for years! Some of you started swimming with us with your first born and now bring two or three children swimming at Puddle Ducks each week! I think it's safe to say we all love our jobs, and that's thanks to you. 
Join our Puddle Ducks team!

We are a close-knit team that love to give our customers great memories and a fantastic time at their swimming lessons every week.

Head over to our Job Vacancies page to see positions available.