We think the 'My Puddle Ducks' accounts are such a great feature to our swimming lessons and we hope you do too!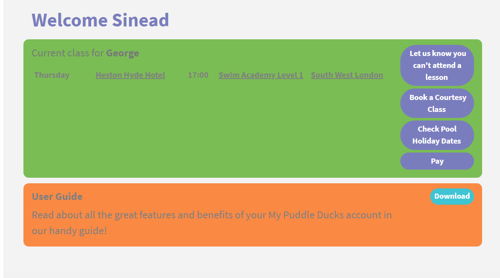 Your 'My Puddle Ducks' account has so many benefits, including booking holidays, booking catch up classes and keeping up to date with your child's progress. The 'My Puddle Ducks' account was developed with you, the customer, in mind. It's packed full of features to make managing your swimming lessons easier, including:
Being able to monitor your child's progress through the criteria for their given class level – you can see how well your child is doing and where they might need some support. It also gives you a basis on which to message your child's teacher to discuss progress
You can see which class level your child will move to when they have completed their criteria in their current level and a space becomes available – this next class is selected based on the time and place of your current class. If this automoves class is not suitable, please let the office know as soon as possible so we can remove this from your account. 
You can easily edit your own personal details, those of your child(ren) and emergency contact details
Order your child's awards with one click. On the right hand side of the My Puddle Ducks account web pages, you will see the latest awards and achievements of your child for which you can order the badges and certificates by simply adding them to your Basket.
Your 'My Puddle Ducks' account is the easiest and fastest way for you to 'Let us know you can't attend a lesson' and book Courtesy Classes.  

Using your 'My Puddle Ducks' account to 'Let us know you can't attend a lesson' and book Courtesy Classes.  
If you've not logged in to you account before, your password is Puddleducks@123 (This can be changed at any time). If you change and forget your password, please let the office know and we can reset this for you. 
Log in to your 'My Puddle Ducks' account and click on the 'My Children' tab.
If you know you are can't attend a lesson, please let us know by clicking the 'Let us know you can't attend button', this enables another child to use your space for a Courtesy class. As long as you have given 24 hours notice of your missed class you will get a voucher for a Courtesy class that you can use before or after the holiday date (as long as you're still a paying customer).
If your plans change after you've booked a holiday, please don't arrive at the pool, if you're not on the register you will not be allowed to swim. If you wish to cancel a holiday contact us at the office and we'll do this for you.
To book a Courtesy class, click on the 'My Children' tab. Click the 'Book Courtesy class' button which will show you all of the classes with availability over the next 7 days in all of our venues. Select your chosen class and you will receive a text and email confirming. Class can be booked up to 1 hour before your chosen class so please bring proof of your class (text or email) so our teachers can update their registers. 
Be aware that if another customer makes a class booking via the website for this particular lesson you will receive a notification email informing you that the catch up class has been cancelled which means that the space is no longer available. If this does happen, please let us know and we will do our best to rearrange it for you.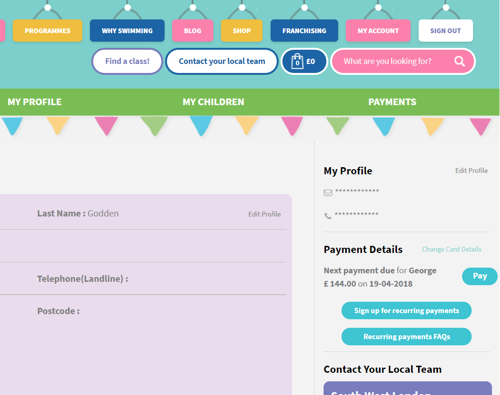 Terms and Conditions
Courtesy classes are a goodwill gesture and have no cash value.
We cannot refund unused Courtesy classes or add them onto the end of your paid classes.
Courtesy class vouchers last for 6 months but you do need to be an existing customer to use them. You cannot use them if your paid classes have finished.
Courtesy classes can only be attended if a space is available. Should the space be taken by a new customer booking, we reserve the right to cancel the catch up lesson even at short notice. We will send you a text message to inform you if this happens and the 'Courtesy class voucher' will be re-added to your account.
Courtesy classes can be booked a maximum of 7 days in advance and up to 1 hour before your chosen class.
We teach 7 days a week across South West London and vouchers can be used to attend a class on any day, at any of our venues (space dependant). We recommend that you use your Courtesy vouchers as soon as possible, as places are subject to availability. If you are unable to attend a Courtesy class, either because there is no availability/space or because you don't have the flexibility to travel to alternative options available, no replacements or alternatives can be offered.
If we cancel a class, a credit will be added to your account that will be used to add an extra class onto the end of your paid classes. 
We only cancel classes as a very last resort, however if we do, you will be sent a brief text message (this goes to the number of the primary contact you gave us). We follow up with a more detailed email explaining the reason for the cancellation. Please add us to your safe senders list, and check that pesky junk folder if you haven't received our email. 
If you have any trouble using any of these features, please do not hesitate to contact our office team who will be more than happy to help. 
Pop over to our other blogs to find out more about our 8 week payment cycle, our ongoing special offers and why we love our Courtesy classes!