The winner of Teacher of the Term 2017 is Nadia Soar - a huge well done and congratulations!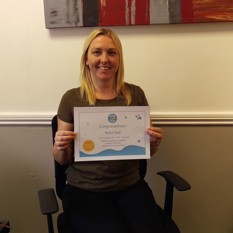 Thank you so much to everyone that sent in nominations for all our teachers - they were an absolute delight to read.
Our independent judge John Rothwell, General Manager at The Holiday Inn, Walsall M6 J10 chose this winning nomination from Sarah (Isaac's mum):
"[For] The help and perseverance in getting Isaac back into the water when he moved to swim academy. Without her recognising Isaac's anxiety issues and reaching out to him on his level I'm not sure if he'd have carried on, let alone started loving it again! Every time he's had a wobble, I've known if I could just get him poolside that Nadia would realise the issue and get him back in! I think all the teachers are brilliant but I've been very grateful to Nadia this term!"