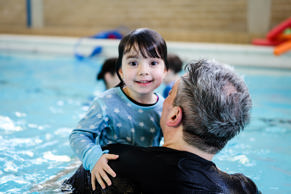 Between 16th and 22nd October, we will be holding our all important Pyjama Week and this time around we will be fundraising for a local charity. During Pyjama week, our Puddle Ducks will be wearing their pyjamas in their swimming lessons which is great fun as well as teaching valuable water safety and survival skills.
We would now like you to vote for one of the following four fantastic charities:
Rosie's Helping Hands
Rosie's Helping Hands helps to improve the care and quality of young lives within a 15 mile radius of Aldridge in the West Midlands. Their wonderful work includes purchasing items or provide funding, to good causes working with children and young people up to the age of 25 years.
From mother and baby groups to training organisations, the charity has helped to enhance the services, provisions and facilities of local groups that would find it difficult to buy such things as; sport and play equipment, hire of premises and services, computers, development funds for disabled young people, educational trips to under privileged children.
Cherished
Cherished's vision is for every girl to know she is cherished and loved for who she is. They work to empower young women in the Midlands by providing a safe space to explore identity, ambitions and relationships.
Cherished's crucial work is preventative as well as dealing with issues such as abuse, exploitation, bullying and anxiety. Ultimately, their valuable work helps young women to grow in confidence, self-esteem and character so they make positive lifestyle choices and fulfil their true potential. 
Molly Olly's Wishes
Molly Olly's Wishes supports children with terminal or life threatening illnesses and their families to help with their emotional wellbeing. This wonderful charity helps to grant individual wishes and donate therapeutic toys and books to both children throughout the UK. Their crucial work helps both children and their families to have a weekend away and a break from hospital treatment.
This charity has been chosen as we know of an incredible little girl aged just 5 who has battled Leukaemia and has had amazing help from this charity. 
 Mummy's Star
Mummy's Star is the only charity in the UK and Ireland dedicated to women and their families affected by cancer during pregnancy and shortly after a birth. The news of a pregnancy or a recent birth is an exciting time for all prospective and existing parents. It can however, be cruelly interrupted by the news of a cancer diagnosis, leading to a huge amount of worry or even the loss of a pregnancy or baby.
Mummy's Star are a 'one stop shop' for advice on cancer diagnosis in pregnancy, as well as offering links to localised services. Their wonderful work provides important social links, advice and emergency financial relief for families affected in this way.
Please take a moment to find out about the wonderful work each of the chosen charities do and then place your vote below. In the interest of fairness, only one vote per person, thank you.