All you need to know – Woolley Private Pool
118 Low Moor Lane, Woolley, Wakefield WF4 2LW.
We can't wait to welcome you to Puddle Ducks at Woolley Private Pool– in the meantime, here's some information that we hope you find useful. Have a splashtastic time!
Location: Woolley Private Pool
Parking: Woolley Private Pool is the second property along Low Moor Lane, with 2 black gates.
 **********Please do not park on Low Moor Lane, as the road is too narrow, and the grass verges will become ruined**************
Parking correctly is essential to ensure that these classes run smoothly without upsetting the farmer and neighbours, please see the above parking plan. If anyone is not able to park as above please let a member of staff know as you may be at risk of losing your child's place in class. We must be really strict with this or we at risk of losing this pool.
GROUP 1
MONDAY - FRIDAY 10.00 & 11.15; 12.30, 1.45, 3.00, 4.15 & 5.15
SATURDAY 9.15, 10.30, 11.30
WITH REGARDS TO PARKING PULL IN TOWARDS THE LEFT PARKING CLOSE TOGETHER AND AS PER THE DIAGRAM. 
GROUP 2
MONDAY-FRIDAY 10.30 & 11.45; 1.00, 2.15, 3.30, 4.45
SATURDAY 9.45, 11.00
WITH REGARDS TO PARKING YOU WILL GO TOWARDS THE RIGHT WHEN THROUGH THE GATES AND AS PER THE DIAGRAM.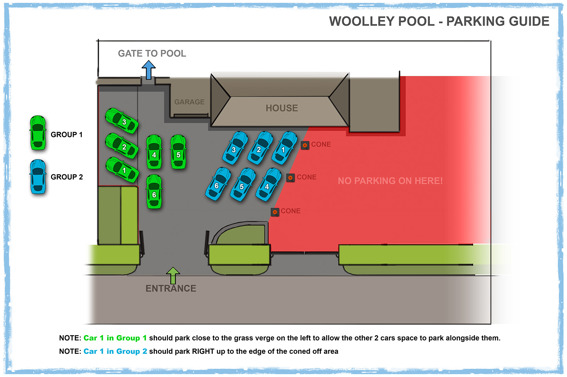 IF YOU ARE UNABLE TO PARK IN THE DRIVE OR NEED TO LEAVE QUICKLY AFTER YOUR CLASS YOU CAN PARK ON WOOLLEY LOW MOOR LANE, ALONGSIDE THE WOODLANDS RESIDENTIAL HOME (WITHOUT BLOCKING THEIR ENTRANCE) BEFORE REACHING THE FARM AT THE TOP AS THE FARMER NEEDS LOTS OF SPACE TO MOVE HIS TRACTOR. THE POOL IS THEN JUST A 100 YARDS WALK AROUND THE CORNER ONTO LOW MOOR LANE. 
ALL CLASSES WILL ENTER THROUGH THE FIRST GATE WHICH WILL BE UNLOCKED, SO PLEASE KEEP THIS AREA CLEAR FOR CUSTOMERS ARRIVING AND LEAVING. 
The pool can be accessed through the right hand side gated archway that is to the left of the property.  Please proceed down the 3 stone steps and the pool is on your left.
If you have a pushchair, please leave it outside
Please remove your shoes in the doorway, a shoe rack is provided.
Essential information:
Only access the pool from the left hand side of the property, under the archway, down the 3 steps and the pool is on your left.  Pushchairs and prams must be kept outside, so please ensure you have a rain cover on
This is a private property so we must only enter areas we need to
Strictly no eating or smoking on the grounds
A well-fitting neoprene swim nappy must be worn with a disposable swim nappy or one of our environmentally friendly NappyWraps & Liners underneath if your child is in Floaties, Splashers or Kickers and in other programmes if they are not potty/toilet trained.
You can buy one of our great value Starter packs  which contain everything you need for your swim lesson.
If your child is attending one of our Swim Academy classes  please take a look at our Swim Accessories page where you can find our full range of goggles and swim hats.
You can find lots more useful information about attending our swim classes on our FAQs page
Changing rooms: Changing cubicles are provided on poolside.  There is a separate room with a toilet and sink.  There is no shower available to use with it being a private pool.  Changing mats, a shoe rack and boxes for your belongings are provided for your convenience.
Exclusivity: Puddle Ducks have exclusive use at all times.
Access: Spectating is possible but very limited.  Please remain as quiet as possible on poolside so as not to disturb the class.
Technical information:
Pool temperature: 30-32°C
Poolside assistant: We have a poolside assistant at all Baby and Pre-school classes
Depth: 0.9m graduating to 2.25m (area is roped off at 1.3m)
Maximum class ratios:

6 children/adult pairs:1 teacher (Floaties, Splashers & Kickers)
6 children/adult pairs:1 teacher (Little Dippers & Dippers)
6 children: 2 teachers (Swim Academy)
Helping you to make your special time last even longer…that's the Puddle Ducks' difference
We like to make life fun and easy for our Puddle Ducks customers so here are some local places we think you and your children may like. You could even meet up before or after the class with your Puddle Ducks classmates.
Closest café
UK Farm Retailer of the Year 2014. Award-winning Farm Shop with Butchery, Bakery, Delicatessen, Wine Loft, Gift House and Café.
Closest soft play
Happy Days Play Centre,  Unit 22 Headway Business Centre, Denby Dale Rd, Wakefield WF2 7AS
Other local attractions
Come and enjoy our home made Jersey Ice Cream whilst taking in the stunning views over the Calder Valley.
The Yorkshire Sculpture Park is an open-air gallery in West Bretton near Wakefield in West Yorkshire, England, showing work by British and international artists, including Henry Moore and Barbara Hepworth.