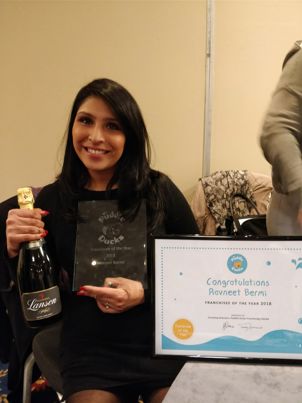 We are so excited to announce that at the Nation Puddle Ducks Conference, our very own Rav walked away with the Franchisee of the Year award.
Rav has been a Puddle Ducks franchisee for nearly four years, and now has lessons in 7 different pools with 13 team members. The decision to award her Franchisee of the Year was due to a number of reasons regarding how she runs this particular franchise.
This is what her team had to say about her: 'Rav inspires us to be the best that we can be and never lets us lose sight of the reasons we joined Puddle Ducks to start with. Even when things get a bit tough for our little team and we feel a little deflated, she will get us all together (which may or may not include wine and cocktails) and we are all back to where we need to be. She is a genuine pleasure to work for and I couldn't ask for a more understanding, generous and caring boss. It is because of her loving nature, passion and motivation that we strive to make our franchise the best that it can be."

Rav said: "This is an amazing achievement for our business and I would love to thank each and every one of our customers and their families for their continued support and loyalty. We have a dream team that work incredibly hard to ensure that the Puddle Ducks journey and experience is the best that it can be for you all. Here is to another fabulous year!"