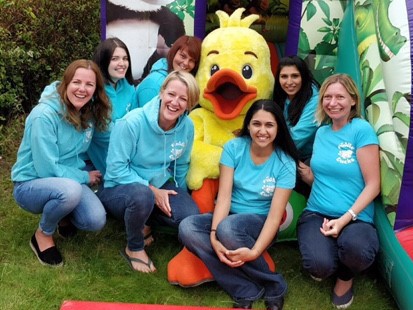 Meet the Team!
Ashly Payne

Senior Swimming Teacher

'Water is my happy place'

I am. Canadian, grew up in S Africa & have been in the UK since 2000.   Since having our daughter, Edie, my spare time is family time.  I started swimming when a few months old & I have been in water ever since!.   I'm from a family of swimmers, waterpolo players and divers - so childhood was spent swimming everywhere with my mum, dad and brother....ocean, rivers, lakes, reservoirs.  I swam competitively, representing my county on many occasions.   5 years ago I began my qualifications, aiming to turn something I love doing into a career. It all fell into place when I met Rav and Puddle Ducks and I haven't looked back.

Jodie Ward

Swimming Teacher

'I could possibly have the best job in the world'

A keen swimmer myself I just love anything H20!
Growing up I spent most weekends at my fathers boat enjoying a vast range of water activities, which is why I generally feel at home wherever I can see, feel or hear water.
I'm yet to find a few words that sums up the love, enthusiasm and belief I have as a teacher for Puddle Ducks.  I burst with pride when any child, regardless of age,  overcomes a fear or masters a certain activity they  found hard to grasp initially.

 

 

Beck Fisher

Swimming Teacher

More info coming soon!

Joti Branson

Office Administration

'Swimming is an important life skill'

Having come from a fitness background (previously worked as a Personal trainer), I have always been interested in all things health and fitness related.

I am myself a regular swimmer and understand the importance of learning to swim and being confident in the water from an early age and how swimming is an important life skill. 

I have three children and they are all strong and competent swimmers, having learnt to swim from a very early age.

After a 10 year career break raising a family, I felt it was time to get back to work.  I specifically needed something that would fit around the kids and luckily an opportunity arose with Puddle Ducks to work as their Office Administrator, so I was more than excited to accept that role when it was offered to me.

In my spare time, I love spending time with my family, swimming, running, anything fitness related really, cooking and walking our elderly dog Muttley.

Although my Puddle Ducks journey has only just begun, I'm very excited about the future and being part of the Puddle Ducks family!

Parveen Gilman

Swimming Teacher and Office Manager

'I want all of our customers to feel like they are part of the Puddle Ducks family'

I started my Puddle Ducks journey when my daughter was just a few months old.
Initially she hated the water and so I wanted to do something to help build up her confidence. After being so impressed with how they helped both us as parents and my daughter in the water, I enquired about joining the Puddle Ducks team – and haven't looked back since.
I trained as an aqua-natal teacher and took on an office role. It really has been the best job in the world being able to work with a great team while getting a good work-life balance

Rachel Hilton

Swimming Teacher

'It's a privilege teaching children the skills they need to be confident in the water'

Growing up by the sea I have always had a passion for water, leading to a love for water sports - including swimming.
As a new mother, I was daunted by the prospect of returning to full time work and a long commute.   I was pleasantly surprised to discover I could work flexibly at Puddle Ducks and I now have a career that combines my passion to teach children (which I I have done for many years) and swimming. I feel very privileged to have such an amazing job teaching babies and children the skills they need to be confident in the water and be part of Puddle Ducks who have such an amazing ethos and approach.

Ravneet Bermi

Franchisee

'Classes are gentle, nurturing and fun'

I have been passionate about baby swimming from my very first experience of it when I took my eldest daughter, to classes in various swim schools from when she was 10 weeks old. I loved the concept and the benefits were amazing – I saw them first hand!  I fell in love with the Puddle Ducks teaching style and the atmosphere after just one term which we did in Leicester when Roma was 18 months old, the pace was perfect for Roma. That is when I became interested in opening my own Puddle Ducks swimming school.
The rest is history!

Rachel McAvan

Pool Side Assistant

I was born in South Africa, although have been living in the UK since I was 8 years old.  Growing up near the beach, I have always enjoyed swimming. 

I have worked for Puddle Ducks for a year now and love how fun the lessons are - especially the singing!

Outside of water, I enjoy music and watching films.  I am currently in sixth form so much of my time is spent studying

 

Rebecca Simmonds

Baby and Pre school teacher

Rebecca joins us as a baby and pre school swimming teacher and will start from September this year.

Rebecca has worked with children since she was 16 and went on to achieve a BA Hons degree in early years and education.

She has most recently been working part time as a room leader at a pre-school nursery.  As you can imagine, Rebecca has always loved working with children, especially those of baby and pre school age.

Rebecca took swimming lessons herself when she was young and understands what an important life skill this is. She is cracking on with her training this summer and can't wait to put it all into practice!!

Rebecca has a little girl who will shortly be 2

Sandra Zajac

Pool Side Assistant

'Seeing happy little faces coming out of their lessons is amazing'

I live at home with my parents and little brother.
I love children and look forward to having my own little family one day.
I have worked for Puddle Ducks for nearly a year now and enjoy seeing young children learn to do something that I wasn't able to do at the same age.
Puddle Ducks has a great team atmosphere and I get real job satisfaction in making sure that lessons run smoothly and safely from start to finish.

Sarah Mayhew

Marketing and Operations

'Puddle Ducks has an exciting future and I love being part of that'

My Puddle Ducks journey started last year after experiencing lessons first hand with my son (a Little Dipper!)
We always look forward to our classes which are great fun and I have relished seeing my boy's confidence in the water, grow, right in front of my eyes.
Whilst my background is in Human Resources, when an opportunity arose to join the Puddle Ducks West Herts team, I jumped at the chance.
I think the Puddle Ducks philosophy is spot on and I welcome the work / life balance and variety of duties my role gives me.