We would love for you to join us in one of our Floaties classes - just CLICK HERE.
(Then click on the Pool 'Timetable & Booking' button for your preferred venue and click 'Join now' to select your chosen class.)

If you have any questions or would like us to send you details of available classes in your local area, just complete the enquiry form towards the bottom of this page.
Our 30-minute Floaties lessons are gentle with the pace just right for very young babies (we recommend that babies are at least 6 weeks old before starting our swimming lessons). Babies have a natural affinity with the water and our programme gently nurtures this, building confidence, both in the child and often the parent. Our programme allows our babies, even at this early age, to make choices about how and when they put their faces in the water and is a bonding experience like no other. You can join our classes at any time (subject to availability).
We follow NHS guidelines which state that your baby can start swimming before they have had their immunisations.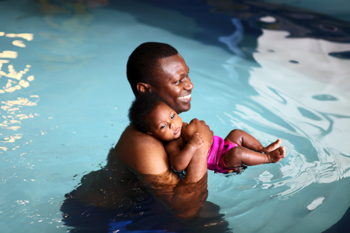 Hints and tips for your first swimming lesson

There are many things to consider when taking a baby swimming for the first time.  Don't be put off by the logistics!  Swimming is one of the few things you can do with a tiny baby that you will each get the same amount of pleasure from.

A few hints and tips:

You can bring your baby as soon as you are both ready, you don't need to wait until they have had their jabs (we follow current NHS advice).
Choose a clean and well-managed pool, ideally heated to over 30°C. 
What should baby wear? In a warm pool just a swim nappy and a neoprene over-nappy. That's it!
When your baby gets out of the water they will probably be cold, tired and hungry!  Have a generously sized hooded bath towel ready and milk or a healthy snack with you.
Bring a changing mat or towel.
Don't forget to bring your costume and towel!

What to expect at the pool

The sounds, smells and extra stimulation of the pool environment is a lot for Floaties to take in at first and there can be tears within the first few weeks. Expect this. It's normal and natural. Consider a quiet and serene class to be a bonus! Everyone will have their turn with an unsettled little one from time to time - but they always settle down in the end.
First swims are usually best done with their main carer (usually mum). Little ones take their comfort from mum and she is familiar and soothing to them. This is not a rule, dad's are welcome to do first swims and many dads have a fabulous experience. We generally find that after 2 or 3 swims with mum Floaties are much more settled and receptive to swimming with dad. Dad often appreciates being able to watch too and build his own confidence from the side!
When your baby gets out of the water they will probably be cold, tired and hungry. Have a generously sized hooded bath towel ready and milk with you.