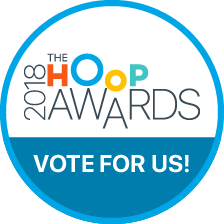 It would be great if you would give us your vote in the Hoop Awards 2018: https://hoop.co.uk/2018-hoop-awards-finalists/brighton/
EXCITING NEWS - we have been nominated in both the "Best for Babies" and "Best for Toddlers" categories in the Hoop Awards 2018!
(You'll find us listed under the Brighton finalists as Hoop have chosen 11 cities across the UK to feature in their 2018 awards but you can vote even if you swim with us in a different town.)
Anyone voting will be eligible to win one of three £100 John Lewis vouchers (votes must be made before Thursday, 12th April 2018).
Thanks in advance for your vote!!!