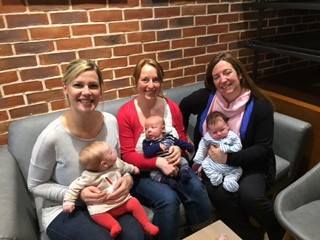 Puddle Ducks West Kent and East Sussex has received the following message and photo from one of our Aquanatal customers.
"I have attached a picture of my meet up with the Aquanatal swimming girls and our babies. This was our first meet up following our classes with you and the birth of all the babies.
Thank you to Clive for allowing us to have great fun in the classes while doing exercise and make friends too!   Ellie"
This is just the loveliest email to have received. Ellie and her fellow Aquanatal ladies will each receive a 20% discount from their first term of Floaties classes so it's no wonder they are all smiling!
We run Aquanatal classes at Bowles Activity Centre (between Crowborough and Tunbridge Wells) on Thursday evenings and at St Michael's School in Otford on Sunday evenings.
Information about our Aquanatal classes can be found here.