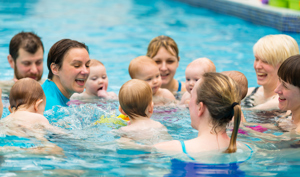 We have known Jaime for as long as we have been running our Puddle Ducks business and we know better than most how closely Jaime's passion for nurturing and developing little ones' skills in a safe and fun environment matches our own.
Our children have attended Jaime's classes and vice versa.
It is because of this synergy and shared passion for teaching key skills to very young children that we have decided to work together and offer all of Jaime's enrolled customers a 2-lesson Free Trial* with us so that you can judge for yourselves.
This special offer* is valid for ANY class run by Puddle Ducks West Kent & East Sussex (subject to availability) including all our WEEKEND classes in towns such as Maidstone, Sevenoaks, Tonbridge, Hildenborough, Tunbridge Wells and Crowborough.
The way the 2-lesson Free Trial* works is that once you have found a suitable class via our website or through the office you will pay for 6 lessons and will receive a full 8-lesson booking. If you are unhappy in any way with any aspect of the first two lessons you attend you will receive a full refund on all your unused lessons. No quibbles.
We very rarely discount our classes and this offer* will be valid for one 8-lesson block, booked before 31st July 2018.
To find a local class to suit you either book online:
Scroll or swipe up, click "Find a Class", enter the details requested and proceed to make an online booking quoting "Hartbeeps" as a voucher code.
Or Click HERE for a list of all our pools and timetables (remember to quote "Hartbeeps" as a voucher code)
Or fill out some basic details below and one of our helpful team will contact you by email within 24 hours of your enquiry.
We really look forward to seeing you in a Puddle Ducks class soon - and say "Hi!" to Jaime from us when you next see her!
Clive & Lindsay.
*Terms & Conditions for Puddle Ducks 2-lesson Free Trial:
Only available to current Hartbeeps customers.
Only available to new Puddle Ducks customers (not existing Puddle Ducks customers).
Any suitable Puddle Ducks class in East Sussex or West Kent for children 0-4 years of age (subject to availability).
Valid for one 8-lesson block, booked before 31st July 2018.
Cannot be used in conjunction with any other Puddle Ducks offer.
"Hartbeeps" must be quoted at the time of booking.